Does supply provide a cure for record LPG prices?
Global LPG imports reached an all-time high in September and may fail to move higher over the winter season on limited supplies, especially from the United States.
10 November, 2021
Global LPG prices have been high throughout 2021, but ever since July, they have been in record territory when considering a 5-year span.
With October a level about twice as high as the 2017-2020 average or early 2021 has been reached and maintained (Argus Media). A famous saying is that high prices are the best cure for high prices, either by adding supply or by curtailing demand dynamics. We will focus on the supply side, discussing recent trends in seaborne flows and perspectives for the next 6-12 months.
September LPG import record may hold for some time
Seaborne LPG imports reached an all-time high of 3.49mbd in September, following a peak in exports in August. October arrivals have been down by 225kbd or 9% mom, while departures have fallen for the second month in a row in October. We think that it is well possible that the September import record will not be topped for the next six months or so, keeping prices well supported.
United States has to prioritise domestic supplies over the winter season
Without question, there is one country which has dominated the supply growth picture over recent years, the United States. Exports have averaged 1.5mbd so far this year, exactly twice the volume in the first 10 months of 2016. However, waterborne exports from the US have cooled off starting in summer and into fall. In spite of lower exports over the last two months, the inventory pattern fell below the 5-year range over October (EIA). And demand in the coming three months is expected to be 0.5mbd or 42% higher than over Q2/Q3 2021 (EIA STEO).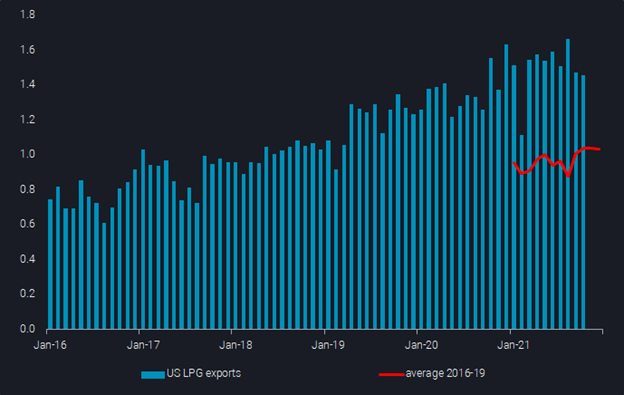 US natural gas and LPG supply is expected to grow only marginally over the next year, and average 2022 US LPG exports are unlikely to be much higher than 2021 levels. Only towards the end of next year, will LPG exports have more upside as midstream companies make additional infrastructure investments. Phillips 66 expects to complete its 4th fractionator by the end of 2022 and Energy Transfer is likely to approve the completion of its 8th fractionator in late 2022 or early 2023. Both projects would aid LPG recovery on the USGC.
Can the Middle East help out, in line with rising crude production?
The Middle East, hosting the biggest OPEC+ countries, is supposed to be hiking crude supplies. This is also happening, but only to a certain extent, and far from uniformly across countries, as a lack of investment and natural decline rates are hitting many players hard. There is a certain expectation that in line with crude also LPG supply and exports will pick up. And in fact, the multi-year decline in LPG exports has bottomed out in spring, with some growth, albeit choppy, since then. It is well possible that LPG exports grow a bit more over the coming months, but we doubt this development will be strong enough to make a difference on a global level.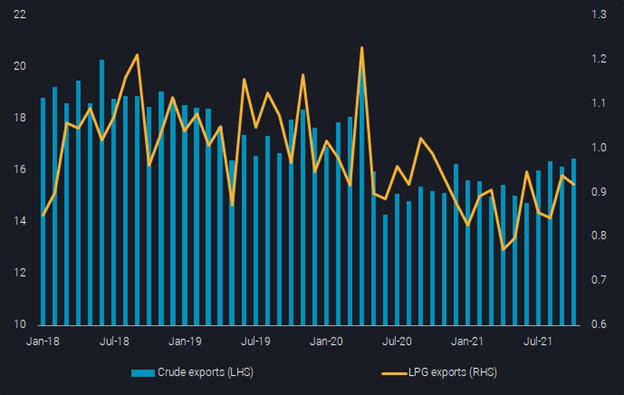 Middle East crude exports (LHS, mbd); Middle East LPG exports (RHS, mbd)
Otherwise, not many countries appear to be in a position to add significantly to global seaborne supplies over the coming months. Algeria, Australia and Canada are worth watching, having added about 90kbd of exports together over the last six months. In conclusion, supply is not likely to mitigate record LPG prices over the coming months.
That puts the ball into the court of demand destruction, but with natural gas being even more pricey in most markets, and power shortages being on the radar, this does not appear to be an option. Neither are petchem players likely to reduce their requirements, as the (partial) alternative naphtha has already been more attractive for many months. Probably it would be up to a marked slowdown of overall global economic activity to cool demand. So at least for the next six months no cure is visible for record LPG prices, neither on an outright nor on a relative basis.
More from Vortexa Analysis