Snapshot: Europe to PADD 1 diesel flows remain buoyant
European diesel/gasoil exports to PADD 1 in February are set to approach record highs seen in November amid tepid European demand and a cold snap in the US northeast.
17 February, 2021
European diesel/gasoil exports to the US northeast region (PADD 1) are on track in February to approach the multiyear highs last seen in November. Tepid European demand, ample ARA supply and a recent burst of cold weather in the US are likely to support spot cargo activity in the coming weeks.
Vortexa data show preliminary European diesel/gasoil loadings for PADD 1 at around 160,000 b/d in February, which would match the multiyear high set in November along the same route. The cold weather conditions in the US northeast have supported flows from Europe as ULSD can be used a heating fuel in the former region.
As was the case at the end of 2020, the main sources for the surge in February flows are coming out of the ARA region – Rotterdam and Antwerp.

Rising diesel flows from Europe to PADD 1 are also boosting ton-miles for tankers moving clean petroleum products (CPP) along the route, which is normally dominated by gasoline flows. The total for the week ending 14 February stood at 1.7bn ton-miles, the highest since late November.

Compounding this now will be the current freezing weather conditions in the US Gulf coast, forcing regional refiners to shut down or dial back production, and therefore curb pipeline flows to PADD 1.

But over a longer time horizon, transatlantic flows of European diesel could be tempered by a heavier European spring refinery maintenance, especially if lockdown rules are relaxed and spur a rise in European diesel consumption.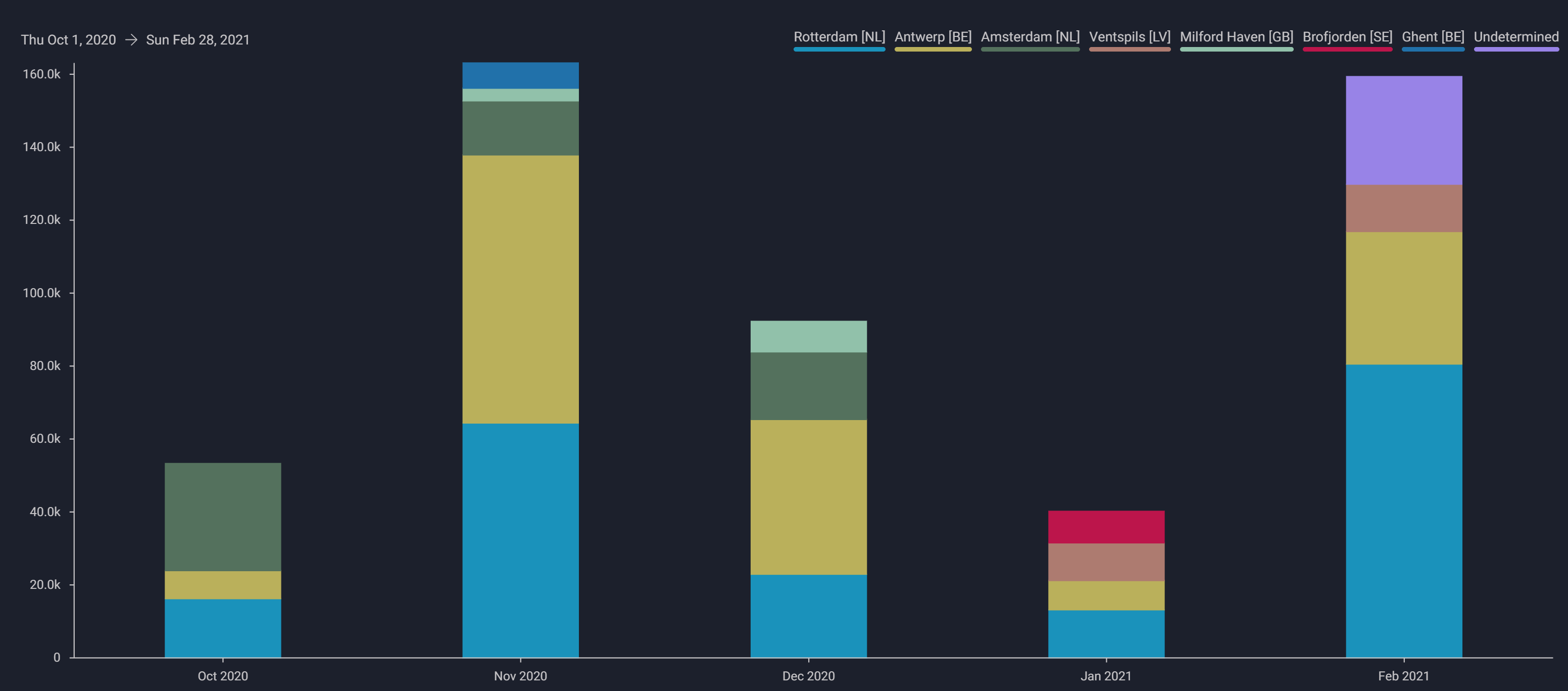 European diesel/gasoil exports to PADD 1 (mt)
See this arbitrage route in the Vortexa platform
Want to see these key regional diesel/gasoil flows in real time? Vortexa users can also track…
Russian diesel/gasoil exports to northwest Europe – Link
European diesel/gasoil exports to west Africa – Link
PADD 3 to diesel exports to Europe – Link
and more….
Want to know more about Vortexa's middle distillate flows?
{{cta('bed45aa2-0068-4057-933e-3fac48417da3')}}