Global diesel market pricing in tighter supplies ahead
The global diesel market is pricing in tighter supplies ahead with refinery runs capped by high operational costs and upcoming maintenance
18 January, 2022
The growing diesel tightness globally is fueling a rise in diesel cracks in the east and a widening of the market backwardation in the west. Across the key diesel storage hubs – the ARA region, Fujairah and Singapore – diesel inventories are challenging their historical lows as refinery supplies struggle to keep pace with demand. With refinery runs capped by high operational costs and upcoming maintenance activities, the diesel market could tighten further in the weeks ahead.
Higher Russian exports offset lower East of Suez volumes to Europe
In Europe, the ICE gasoil M1/M2 spread has blown out over the last seven days, widening to the highest since 2018 based on Argus' prices, although cracks (against Brent) have remained fairly stable. Higher arrivals from the Baltics and Black Sea, up 25% m-o-m so far, have offset lower volumes from the East of Suez, amidst refinery maintenance in the Middle East and a closed east-west arb. Regional exports, meanwhile, have remained robust with a strong pull from West Africa and an open reverse arb moving cargoes to the US Padd 1, which could see further upsides as more US refiners enter into maintenance season. High natural gas prices have kept a lid on refinery runs and hydrocracker utilisations, which is continously weighing on domestic diesel production in Europe.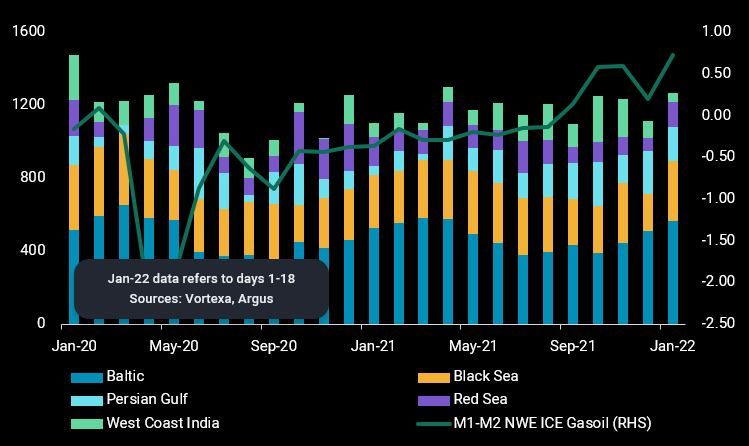 Europe diesel imports (kbd, LHS) and M1-M2 NWE gasoil forward curve ($/bl, RHS)
Tight Asian supplies stifle East-West arbitrage
Curtained diesel exports from China and a robust demand recovery in Australia and Southeast Asia have tightened regional supplies in the recent months, although Australia's demand has eased under the impression of the current Omicron wave. Even with increased exports from India and other Northeast Asian refiners, middle distillate inventories in Singapore fell to a multi-year low of 7.2mb last week, according to Enterprise Singapore data. With growing tightness and strengthening cracks, the narrow east-west arbitrage and steep backwardation in the western markets have discouraged barrels from moving out of the region, leading to a slowing of Asia's diesel exports this month.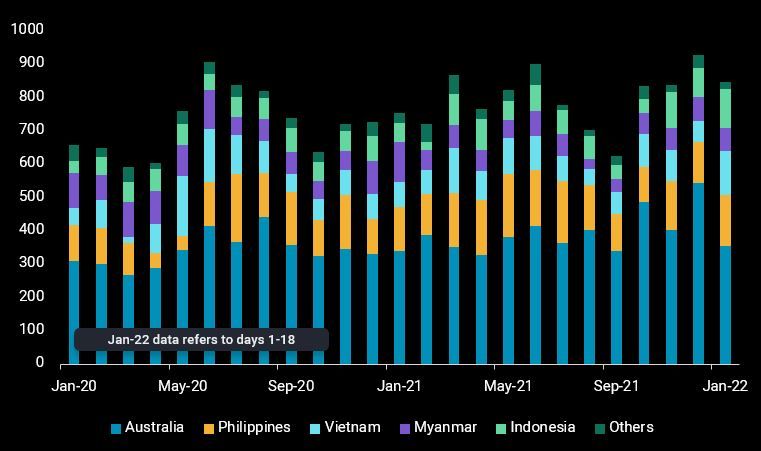 Australia and Southeast Asia diesel imports (kbd)
Refiners snap up low sulphur, middle-distillate rich crude grades
In the current climate of high natural prices and strong diesel cracks, low sulphur, middle distillate-rich crudes, such as Nigeria's Forcados and Bonga, as well as Azerbaijan's Azeri Light grades, have seen their premiums against Brent rising (Argus Media). Azeri Light, which is mainly exported to West Med, is seeing growing interest from Asian refiners. Three Aframax tankers loaded Azeri Light from Ceyhan port this month and discharged in Ashkelon, with the cargoes likely bound for Asia. Another two Suezmax tankers that loaded this month, are enroute to Thailand. Demand for similar grades from Asian refiners could grow if diesel cracks continue to rally.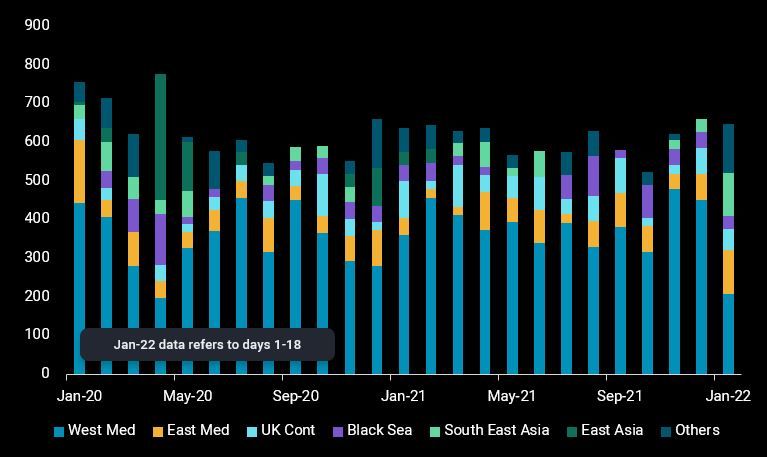 Azeri Light crude exports by destination (kbd)
Global diesel tightness may linger through Q2
US refiners are starting their maintenance season this month, which is expected to last through April. Refiners in Asia and Europe will begin their turnaround activities next quarter, but both regions are likely to be entering the season with low diesel inventories based on their current trajectories. Any combination of late cold winter weather, the start of the agriculture season, and strong road travel has the potential to drive cracks even higher, in the crucial combination with globally tight supplies.
More from Vortexa Analysis