India's diesel exports set new record. Is this sustainable?
India's diesel exports set a record-high in March, as traders in the west snapped up every available barrel offered in the market. We weigh in on whether this export level is sustainable going forward.
20 April, 2022
India's diesel exports set a record-high of 800kbd in March, as supply tightness in the west and initial fears of a loss of Russian diesel supplies sent traders snapping up every available barrel offered in the market.
While the continuity of Russia's diesel exports to Europe in the past month has calmed nerves, structural market tightness in the west remains. Europe's spring refinery maintenance is ongoing and the prospects of higher regional production are limited. Do we expect India to sustain its diesel exports at March's level going forward?
Indian refiners boosted runs, how much more?
Historically, Reliance's Jamnagar, Nayara's Vadinar and MRPL's New Mangalore refineries supplied over 90% of India's diesel exports. We assessed the implied refinery runs of these three refineries ahead of customs data by using Vortexa's crude arrival volumes and netting off onshore crude inventory changes at these refineries over the assessed time period.
Despite a strong margin environment, Reliance's Jamnagar implied refinery runs averaged 1.2mbd in March, leaning towards the lower end of the historical range, potentially constrained by a lack of crude supplies in lieu of its last-minute decision to defer its planned maintenance. But implied refinery runs have since rebounded to around 1.4mbd in the first two weeks of this month, nearing historical highs. Meanwhile, Nayara's Vadinar and MRPL's New Mangalore refineries have maintained their runs close to capacity limits in March and 1H April, with limited diesel production upsides except for yield shift optimisations.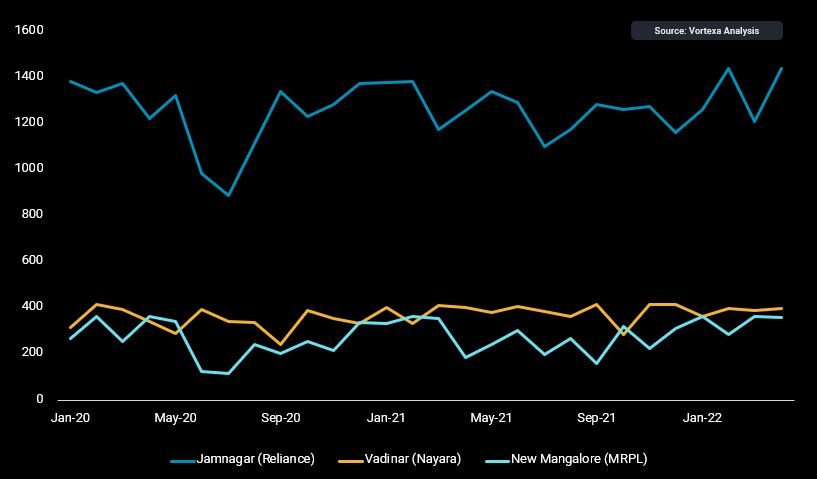 Selected India refineries' implied crude runs (kbd)
India's diesel exports losing steam in April
Our preliminary estimates are pointing to India's diesel exports cooling to 540kbd in 1H April, even below Jan/Feb levels. For one, the surge in the country's diesel exports combined with a sharp rise in domestic demand last month have likely drawn stockpiles down significantly, driving the need for restocking this month.

With more diesel supplies from India, Mideast Gulf and the US arriving in Europe this month and Russian diesel supplies continuing to flow at solid levels, diesel prices in Europe are starting to cool from the highs seen in end-March. In contrast, diesel prices in Asia have been on the rise, as the start of spring maintenance and increased import demand from New Zealand (due to its refinery closure this month), together with other factors, have further tightened the regional market. If Asia's diesel prices continue to outpace Europe's, and freight rates remain favourable, we could expect to see more Indian diesel supplies heading to the east in the weeks ahead.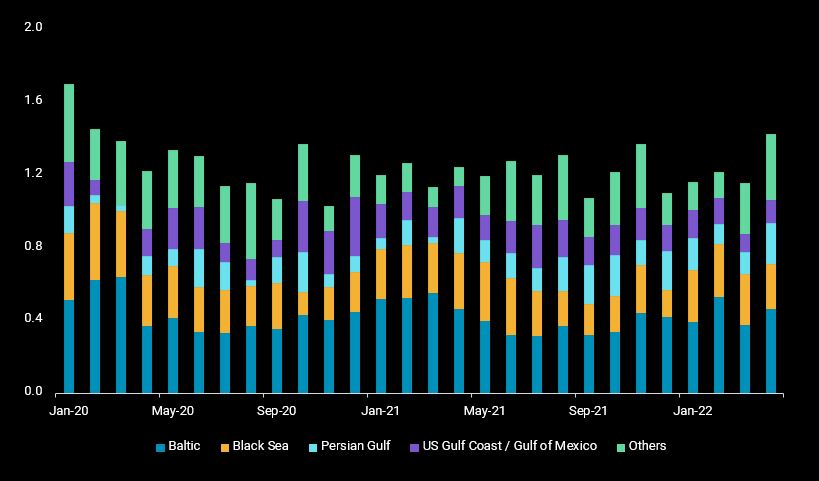 Diesel arrivals into Europe by origin shipping region (mbd)
LR2 tankers benefit at the expense of MRs
The strong uptick in India's diesel exports to Europe and Africa last month has seen LR2 utilisation and tonne-mile demand almost doubling m-o-m, supporting Mideast Gulf LR2 rates. But this has come at the expense of lower India diesel supplies to the east, weighing on MR tankers' tonnage demand. MR tankers have nevertheless found support from robust intra-regional Asian diesel flows compensating for lower exports from India to key import markets such as Australia.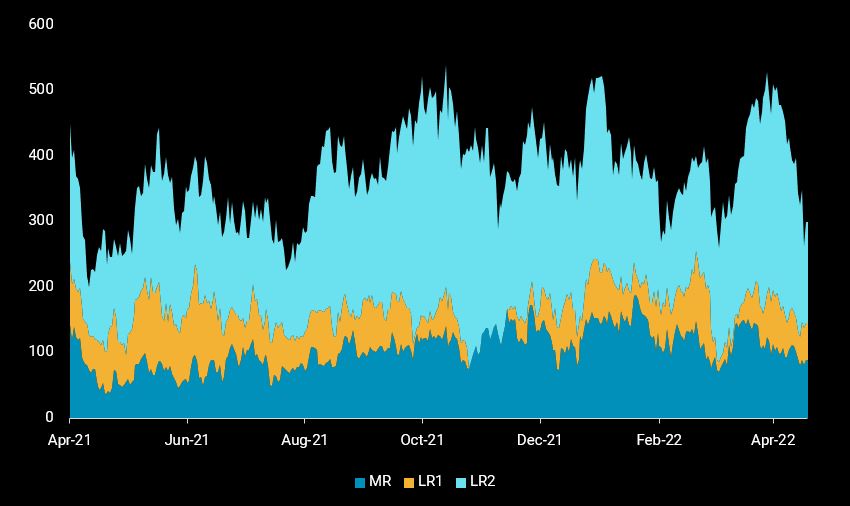 Tonne-mile demand for diesel from India by vessel class
More from Vortexa Analysis