An Alaskan anomaly: Jet fuel imports rise
We examine how Alaska's jet fuel market has run against the wider global trend of persistently weak demand.
15 October, 2020
There are not many places in the world where jet fuel imports are currently rising given ongoing air travel limitations in the wake of the covid-19 pandemic. One of the outliers however is Alaska, where the local jet fuel market has run counter to the wider global trend of persistently weak demand, as we share in the following insight.
PADD 5 Dynamics
The US West Coast (PADD 5) is a key net importer for the global jet fuel market, with much of the region's imports arriving in California, home to some of the busiest airports in the US. But on top of this, there is also a significant, and growing, pull of jet fuel into Alaska, home to one of the largest air cargo hubs in the world.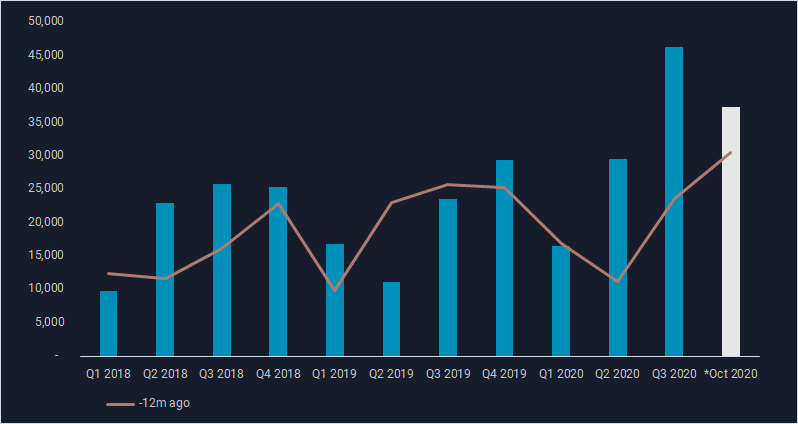 Jet fuel arrivals to Alaska (b/d)
Note: Preliminary October 2020 volumes shown rather than full Q4 2020
In recent months jet fuel arrivals into Alaska have grown sharply to reach multiyear year highs (see chart above):
Alaska imported more than 46,000 b/d of jet fuel during Q3, making it the highest quarterly average ever recorded by Vortexa.

Preliminary indications suggest momentum is continuing into Q4, with October imports expected at around 37,000 b/d, also higher year-on-year. Much of the surge in Alaska's imports comes from increased flows from South Korea, the world's largest jet fuel exporter. Other suppliers since the start of Q3 include Japan, Singapore and Malaysia.

The South Korea to PADD 5 jet fuel arb, which re-opened in October after remaining shut in the second half September, is expected to support more arb flows in the coming weeks.

Favourable arbitrage economics and a higher import appetite from Alaska are a boon for Far East refiners otherwise struggling to place jet fuel within the Asia-Pacific region, or to export to Europe.
Spotlight on Anchorage
Within Alaska, the main destination for jet fuel is the Port of Anchorage petroleum terminal, close to the Ted Stevens Anchorage International Airport. The second most popular destination in Alaska is Nikiski – home to Marathon's 68,000 b/d Kenai refinery which sends jet fuel to the airport via pipeline.
Vortexa data shows Anchorage is on track to receive at least four MR tankers of jet fuel in October, matching the year-to-date high seen in September.

MR tanker Dalmacija discharged its of South Korean jet fuel on 8 October. MR tankers STI Galata, STI Milwaukee and Alycone T are expected to discharge around 900,000 bbl of jet, also from South Korea, between 16-26 October.

Jet fuel imports into Kenai averaged around 20,000 b/d in August-September, a multi-year high according to Vortexa data. But no jet fuel has discharged into Nikiski so far this month. The Kenai refinery was reported to be undergoing maintenance work in the third quarter.