Latam diesel imports via WAF surge in March
Latin America diesel imports via ship-to-ship transfers off west Africa are on track to hit a multiyear year high in March.
29 March, 2021
Latin America's diesel imports via ship-to-ship transfers (STS) off West Africa are on track to hit a multi-year high in March and remain firm in April. The sharp rise in this new trade flow could be a trend that gathers further momentum in the coming weeks, especially given current delays with diesel flows via the Suez Canal.
Latin America's diesel market is heavily reliant on imports with close to a 70% share of imports originating from the US Gulf Coast (PADD 3) – during Dec 2020 to Feb 2021. But a slump in PADD 3 refinery utilisation towards the end of February, as seen in EIA data, following a cold snap in the region, has driven Brazilian and Argentinian diesel buyers to source product from tankers stationed off West Africa.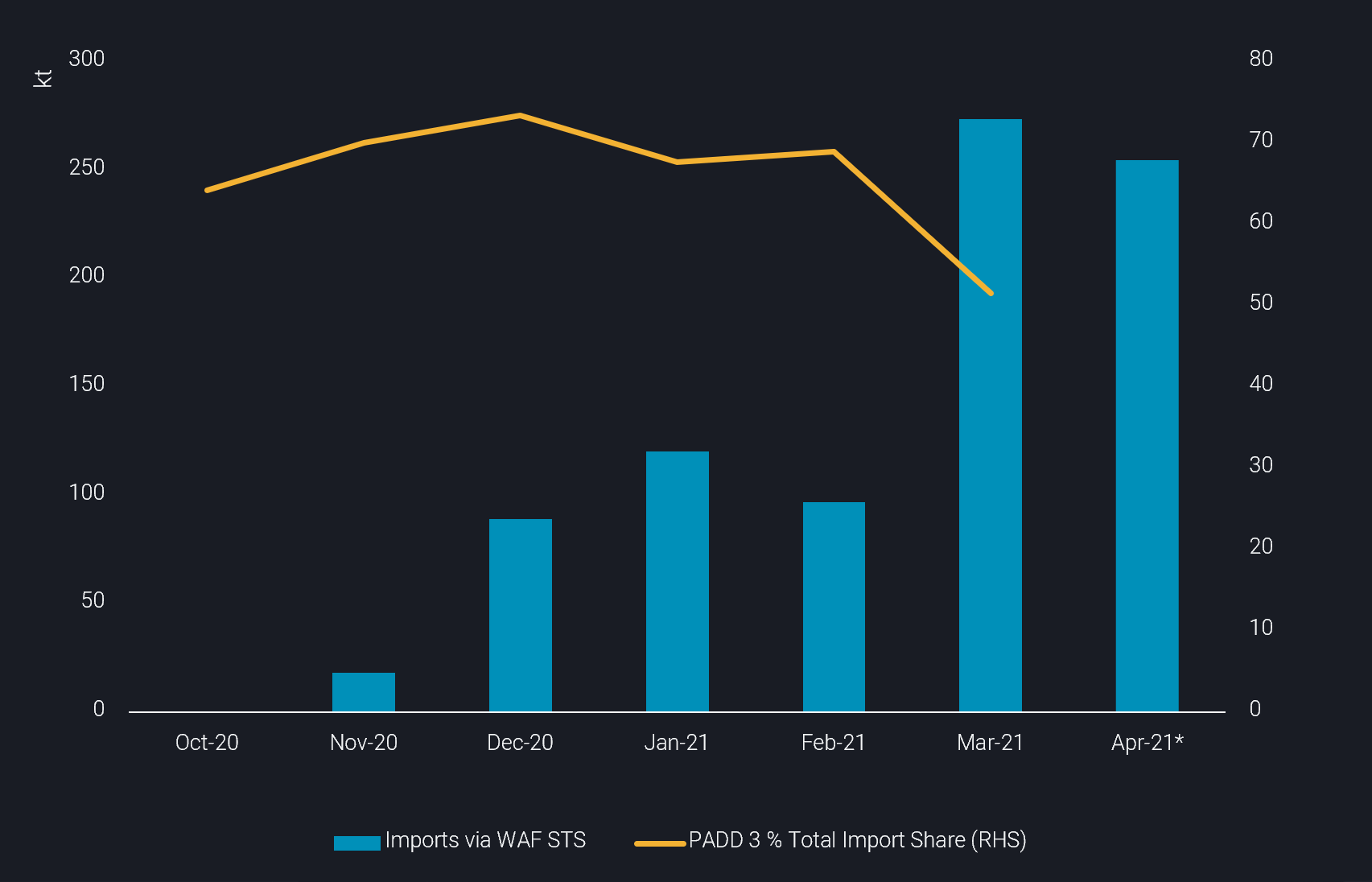 Central & South America diesel imports: Imports via WAF STS (April arrivals preliminary) vs PADD3 share of total imports
March imports draw upon WAF-based tankers
Vortexa data shows that most of the 270,000 mt of diesel arriving into Latin America in March – from tankers previously stationed offshore West Africa – originated from Reliance's Jamanagar refinery and Saudi Aramco's Jubail plant.

Both sources have historically been major diesel suppliers to Europe, but with demand in the region still feeling the impact from covid-19 cases and with US refining activity still on the road to recovery, Latin America has emerged as a viable outlet for spot supply.

Newbuild tankers from classes ranging from LR2 up to VLCC have loaded diesel from East of Suez producers and then sailed towards West Africa. Upon reaching West African waters these tankers then transferred smaller parcel sizes to LR1/MR tankers, for eventual discharge into Brazilian and Argentinian ports.

In prior months, newbuild VLCC and Suezmax tankers carrying diesel (and/or jet fuel) would have typically sailed towards Europe, the most captive market for surplus diesel.

The trend looks set to continue into April with preliminary indications showing another 250,000 mt of diesel arriving into Latin America during the month, having been transferred off West Africa.

The lingering impact of the Suez Canal blockage could also pave the way for more east of Suez origin LR1/LR2 diesel flows travelling to Europe via the Cape of Good Hope and potentially discharging some or all cargo aboard via STS off West Africa.
Suezmax and VLCC tankers to watch
Looking ahead, another 420,000 mt of diesel is expected to reach West African waters across three Suezmax tankers by mid April. This would add to around 350,000t mt of diesel/gasoil already floating off Lome across four VLCCs inlcuding, newbuild VLCC Diodorus. Whilst not all of this volume is likely to discharge only into Latin America, the anticipated build in volumes offshore West Africa could spur flows across the South Atlantic ocean.

Other new build VLCCs to watch for potentially carrying diesel to/via West Africa in the coming weeks include Erbil, Doris and Yuan Peng Yang. The latter two VLCCs are set to load cargoes offshore Sri Lanka and Fujairah, respectively, and would sail via West Africa provided the cargo was not destined for east of Suez buyers.
Want to get the latest updates from Vortexa's analysts and industry experts directly to your inbox?
{{cta('cf096ab3-557b-4d5a-b898-d5fc843fd89b','justifycenter')}}
---
More from Vortexa CPP Analysis
Vortexa In the News – CPP