Mediterranean road fuel flows in flux
We put the spotlight on net flows of diesel and gasoline within the Mediterranean region.
29 October, 2020
In our latest insight we shine a spotlight on the net flows of diesel and gasoline within the Mediterranean region. We analyse the locations where we have started to see shifts in exports and imports – in the context of a recent uptick in regional Covid-19 cases and ongoing refinery maintenance work and run cuts.
Diesel/Gasoil flows
Mediterranean refiners are contending with an increasingly challenging operating environment. Demand for diesel, once considered the 'king of the barrel', is faltering in the region as another wave of Covid-19 cases triggers governments to implement new mobility restrictions. Preliminary data show the net diesel/gasoil import balance is narrowing again in October, for the third month running.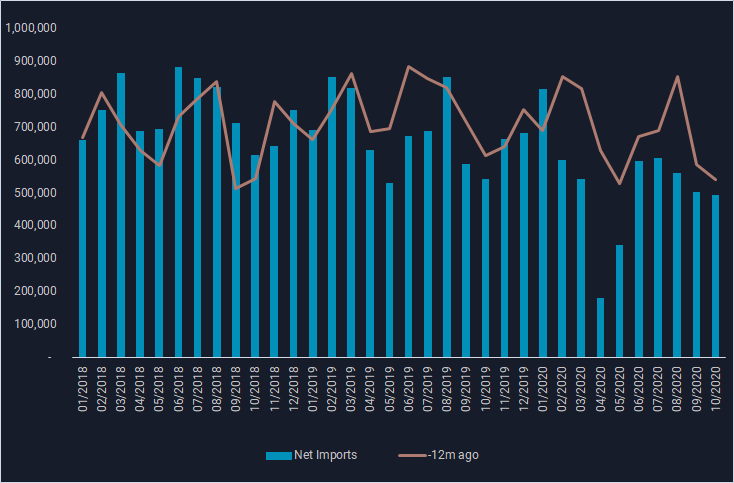 Mediterranean net imports of diesel/gasoil (b/d)
Net diesel/gasoil imports for the Mediterranean (excluding intra-regional flows) stand at just below 500,000 b/d in October as of 28 October, marginally lower versus September, and down from 540,000 b/d from a year earlier.
The net import total is comprised of around 638,000 b/d of diesel/gasoil arriving into Mediterranean ports during October, and offset by 142,000 b/d of exports from the region over the same period.
Given the rising numbers of Covid-19 cases in some of the largest Mediterranean diesel markets – namely Spain, Italy and France – total net imports for the region could fall further from current levels in coming weeks.
Weaker Mediterranean diesel import demand would likely hit refiners in Saudi Arabia, Russia and the US Gulf Coast (PADD 3) the hardest – the top three suppliers so far in October.
Gasoline/blending components flows
Unlike diesel, gasoline and its blending components are usually surplus products for the Mediterranean. Exports from this region typically head to west Africa and the US Atlantic Coast (PADD 1). But preliminary October data shows net gasoline flows (excluding intra-regional flows) to be closer parity than they have been in two years.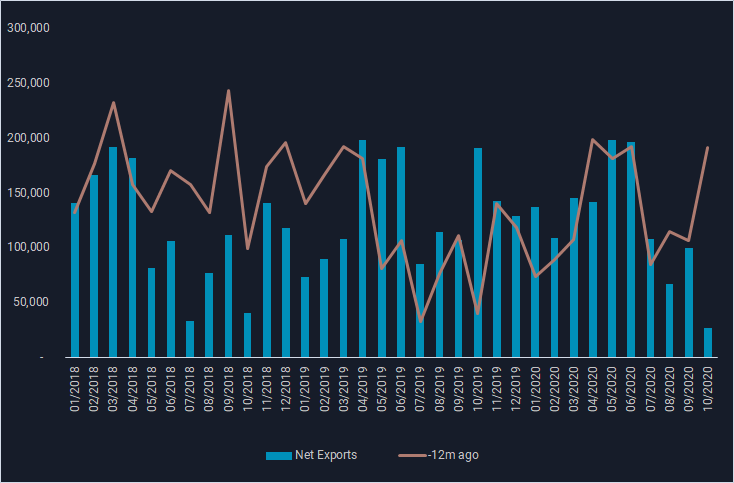 Mediterranean net exports of gasoline/blending components (b/d)
Net gasoline/blending components exports stand at around 27,000 b/d in October, as of 28 October, down from around 100,000 b/d in September and an average of 135,000 b/d for the first nine months of this year.

One driver for the much lower net export value in October is a jump in gasoline imports, especially from the ARA region. Mediterranean imports from the northwest European gasoline blending/storage hub almost reached 100,000 b/d in October – a level unseen since at least January 2016. Total Mediterranean gasoline imports in October reached just over 200,000 b/d in October, a multiyear high.
The largest Mediterranean importer of of ARA gasoline in October was Barcelona, followed by Las Palmas and Beirut. The rising imports, especially to Spanish ports aligns with ongoing/expected refinery shutdowns/turnarounds.
Notable Mediterranean refineries that have reportedly recently lowered or will lower gasoline output in the coming weeks include: Saras' Sarroch, Lukoil's Priolo, Repsol's (Petronor) Bilbao, Cepsa's Huelva and Hellenic's Aspropyrgos refineries.
Looking ahead, net flows of Mediterranean gasoline will likely remain under pressure given the lower production base, even despite a potential dip in domestic demand.
Want to know more about these flows?
{{cta('bed45aa2-0068-4057-933e-3fac48417da3′,'justifycenter')}}