Singapore's fuel oil tightness heats up
Singapore's fuel oil market is at one of its tightest periods this year, driven by strong fuel oil exports to regional countries and its robust bunker sales. This tightness is expected to persist through Q4 2020.
24 November, 2020
Singapore's fuel oil market is currently in one of its tightest periods so far this year. Combined onshore and offshore fuel oil inventories drew to a yearly low of 5.6mn mt in mid-November, according to Vortexa and Enterprise Singapore data. The impact is reflected in the steady rise in Singapore's 0.5% VLSFO cracks against Dubai since September, which rose to the highest monthly average in November since April. We explore the key factors driving this tightness.
Strong fuel oil exports on regional pull
Exports to China from Singapore have climbed for three consecutive months to 1.09mn mt in November on firm Chinese bunker demand, based on preliminary estimates.
A surge in exports to Malaysia's Tanjung Pelepas port has also been registered this month, with exports climbing to 405,000 mt, the second highest month this year.
South Korea's strong residue feedstock appetite provides a further boost, with three or four Aframax cargoes headed there each month since August, supplementing lower refinery runs. The country has also seen fewer fuel oil export cargoes with reduced throughput.
While Singapore's fuel oil imports are up month-on-month in November, strong exports have weighed down on net imports into the country at 1.3mn mt, the second lowest month this year.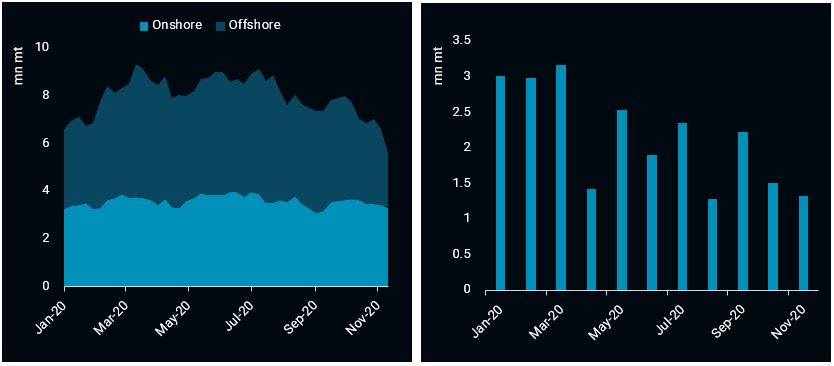 Singapore's fuel oil inventories (left) and net imports (right)
See this in the Vortexa platform
Robust bunker fuel demand
Singapore's bunker fuel sales totalled 3.8mn mt in October, matching Q1 2020 sales volumes, according to Maritime and Port Authority of Singapore data. Bunkering and crew change efficiencies have favoured Singapore over neighbouring countries for vessel port calls.
The country's bunker sales are expected to remain resilient through the rest of the year, despite expectations of a global slowdown in bunker sales amid the ongoing pandemic.
What next for Singapore's fuel oil market?
Looking forward, weak refining margins are expected to cap refinery run rates globally, limiting upsides on fuel oil production. As such our view is that Singapore's fuel oil market is likely to remain tight through the rest of 2020.
---
Want to know more about these flows?
{{cta('bed45aa2-0068-4057-933e-3fac48417da3')}}