Sweden reverts to diesel exporter in June
Sweden reverts to diesel exporter in June
01 July, 2020
Sweden returned to the position of a net diesel exporter in June, amid improving European diesel consumption. And waning storage economics in the northwest European diesel market curbed the unusual flow of Russian diesel that moved into Swedish storage terminals observed over April-May.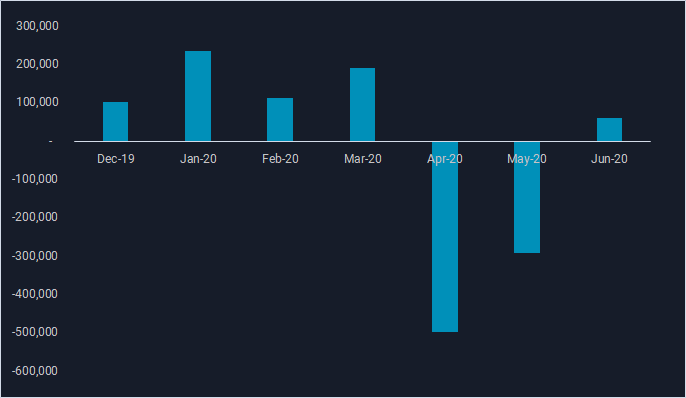 Sweden net diesel exports (mt)
Storage plays draws to a close
Sweden's diesel imports in June fell to around 350,000 mt, according to Vortexa data, down from 700,000 mt in May. June imports contrast sharply against 900,000 mt imported in April, when a wide contango for northwest European diesel drove record diesel volumes from Russia into Swedish storage terminals.
The relative proximity between Russia's Primorsk – the single largest source of Russian diesel exports – and Swedish terminals along the Baltic Sea, supported a shift in flows at a time when other large European consumers trimmed imports.
The economic viability of these flows has since faded. Sweden's imports of Russian-origin diesel fell to 40,000 mt in June, down from 250,000 mt and 640,000 mt in May and April, respectively.
During the peak of Sweden's diesel import activity in April-May, terminals at the Swedish ports of Gavle and Norrkoping received the largest share of the country's imports. Seaborne flow tracking indicate that these have not been redistributed, given that no diesel has been observed exported from the ports since Q2.
Swedish exports edge higher in June
As lock-down measures are gradually lifted across Europe, diesel demand in northwest Europe consumers is recovering and supporting increased exports from Swedish refineries.
Sweden's total diesel exports stood at 430,000 mt in June, up by 15% on the month, our data show.
Combined exports to key consumption markets in the region – Germany, France and the UK – stood at 145,000 mt, up from 120,000 mt in May, marking the first month-on-month rise to these three countries since January 2020.
Interested in a more detailed view of our data and associated flows?
{{cta('bed45aa2-0068-4057-933e-3fac48417da3′,'justifycenter')}}