US and Europe scramble for jet fuel amid a supply crunch
A jet fuel supply crunch in the US and Europe is drawing long-haul barrels from the East, but supplies are capped at a time when refiners are maximising diesel yields and entering into planned maintenance.
06 April, 2022
From being an unwanted product that had to be blended into diesel two years ago, jet fuel has emerged to become the most expensive fuel across the barrel today. Rising jet fuel tightness in the US and Europe are pulling long-haul barrels from the East, but supplies are capped at a time when refiners are maximising diesel yields whilst several others are heading into spring maintenance, with low inventories offering limited buffer.
US Padd 1 jet fuel imports thin, Europe-bound cargoes diverted
Jet fuel inventories in US Padd 1 have tumbled for three consecutive weeks in March (EIA data), suggesting that demand has outpaced domestic supplies, seaborne and Colonial pipeline imports (from Padd 3) combined. Despite rising demand, seaborne jet fuel arrivals into Padd 1 in March remained range-bound at 65kbd, down over 30% versus the second half of last year. Interestingly, two LR1 jet cargoes have been directed to New York after signalling Algeciras last week, as Padd 1 jet fuel prices surpass Northwest Europen values. While there is a lack of transparency of Colonial pipeline import volumes, strong jet regrade and arbitrage signals could drive US Gulf refiners to increase jet supplies to Padd 1 in the weeks ahead, if there is capacity to do so.

LR1 STI Excel targeting New York after signalling Algeciras
On the West Coast, jet fuel imports into Padd 5 have ticked up in recent weeks, with arrivals in the first two weeks of April projected to reach 120kbd, up over 30% from March and the highest since last September. With lower South Korean jet fuel supplies expected this quarter, competition for these cargoes with Asian buyers is likely to intensify.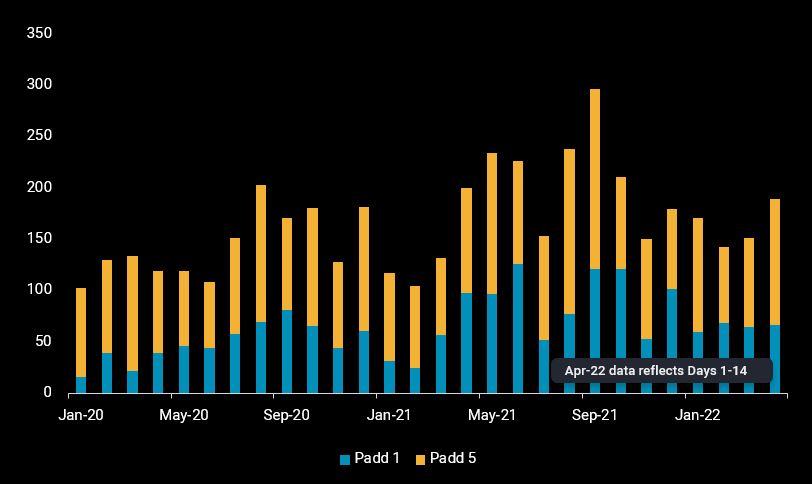 Jet fuel arrivals into US Padd 1 and Padd 5 (kbd)
Europe slurps up Asia and Middle East jet cargoes
In Europe, jet fuel supplies are also tightening rapidly, propelling prices upwards. Proximity to Asia and Middle East supplies offers the region a key advantage over US Padd 1, with close to 440kbd of jet fuel cargoes from the two refining hubs discharging into Europe in the first two weeks of April, up from 250kbd last month. Non-European jet fuel arrivals into West Med have registered a surge during this period, with imports projected to reach a record high of 170kbd, partially supplementing a lack of supplies from UK Cont. At this juncture, Europe can ill-afford to further reject Russia's middle distillate-rich Urals crude and diesel supplies, as replacement supplies are limited and will almost certainly exacerbate regional jet fuel tightness.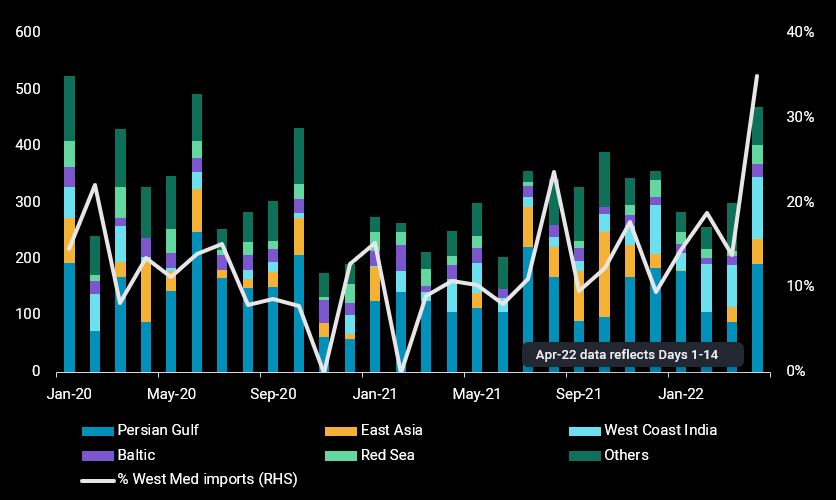 Europe jet fuel arrivals by origin regions (LHS, kbd) and percentage imports into West Med (RHS, %)
Higher China jet fuel exports offset lower supplies from other regional exporters
As Asian refiners enter into peak maintenance season this quarter, regional supplies are set to tighten. Fortunately, China's jet fuel exports are projected to stage a strong rebound this month, after a dip in March. The country's domestic demand has been hammered by renewed lockdowns in major cities including Shanghai and Hong Kong and flight cancellations after a recent plane crash, building up surplus stocks. But this export level may not be sustainable after April, as Chinese refiners are also cutting back on refining runs in lieu of poor margins and planned maintenance.
More from Vortexa Analysis