US Fuel Oil and Dirty Feedstocks Exports Slump in Q1 2021
Vortexa outlines how the decline in US fuel oil and dirty feedstocks exports has impacted buyers in Latin America, Caribbean and Asia.
07 April, 2021
US fuel oil and other dirty feedstock exports fell to 114,000 b/d in Q1 2021, down by 30% from the previous quarter and 145,000 b/d from a year ago. Vortexa data shows the decline in US exports has impacted buyers in the Caribbean the most, while Singapore and India have been relatively unscathed from a lack of US supply.
The US is a major buyer in the global fuel oil and dirty feedstocks market in a post IMO 2020 world, but even before then, the nation was and remains an exporter of these products to Caribbean and Southeast Asian buyers.
However with the crude runs at the key US refinery hub of PADD 3 plummeting during Q1 this year, so too has the region's exports of fuel oil, VGO and cycle oils for the international market.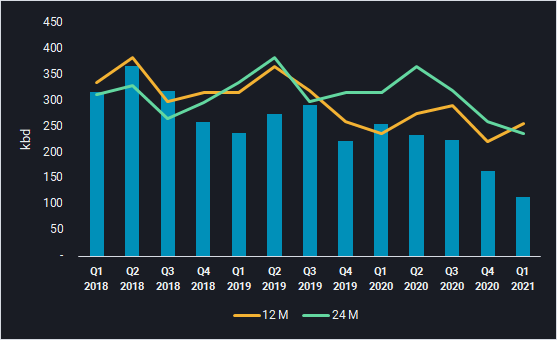 US Fuel Oil and Dirty Feedstocks Exports by Quarter
Latin America & Caribbean imports slump
Mexico was a key importer of US fuel oil/dirty feedstocks but the combination of a persistently weak domestic refining sector and limited US supplies means cargo flows have dropped sharply. Mexico imported as much as 56,000 b/d from the US in Q2 2019, but only imported around 4,000 b/d in Q1 2021. The downturn in Q1 2021 extends a trend of lower fuel oil exports from US to Mexico since July 2020.

The regional bunkering hub of Panama saw arrivals from the US drop to multiyear lows in Q1 2021 coming in at 13,000 b/d. In previous quarters stretching back to 2018, import volumes stood at around 30,000-35,000 b/d.

Meanwhile imports for Bahamas – a major storage hub for the region – fell to a historical low of 10,000 b/d arriving from the US in Q1 2021. But import levels are likely to increase in the near term as PADD 3 refineries return online.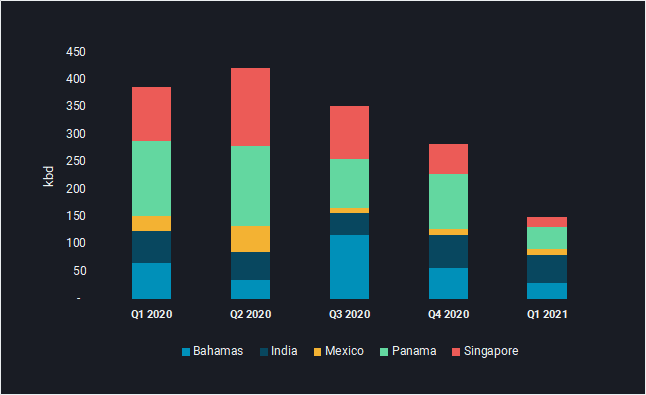 Top Destinations for Imports of US Fuel Oil and Dirty Feedstocks
Muted impact on Asia
Unlike the Caribbean, India's imports of US origin cargoes remained stable between Q4 2020 and Q1 2021 at around 17,000 b/d. India receives its second largest stream of fuel oil, typically carbon black feedstock, from the US but looking forward, these imports could be dampened if the country goes into another lockdown.

Singapore is once again taking in growing volumes of fuel oil and feedstocks from the Middle East which is providing tougher competition for any marginal US supply to travel further eastwards into Asia. Singapore imported only 6,000 b/d of fuel oil from the US in Q1 2021, well below the 73,000 b/d level across 2018. Singapore imports from the Middle East region stood at 298,000 b/d in Q1 2021, compared to 180,000 b/d in the same quarter last year.
Want to get the latest updates from Vortexa's analysts and industry experts directly to your inbox?
{{cta('cf096ab3-557b-4d5a-b898-d5fc843fd89b','justifycenter')}}
---
More from Vortexa CPP Analysis
Vortexa In the News – CPP