West of Suez gasoline flows pick up in a low-freight environment
West of Suez gasoline flows pick up in a low-freight environment
24 September, 2020
An uptick in gasoline loadings from Europe to West Africa since the beginning of September, compared to a calm summer has led to a strengthening of freight rates in the clean tanker market for LR1s. Inversely, a further drop in Europe to PADD 1 MR2 rates has led to an increase in loadings Vortexa shows, prompting the question whether the clean tanker market for this route is also due a long-awaited firming in rates.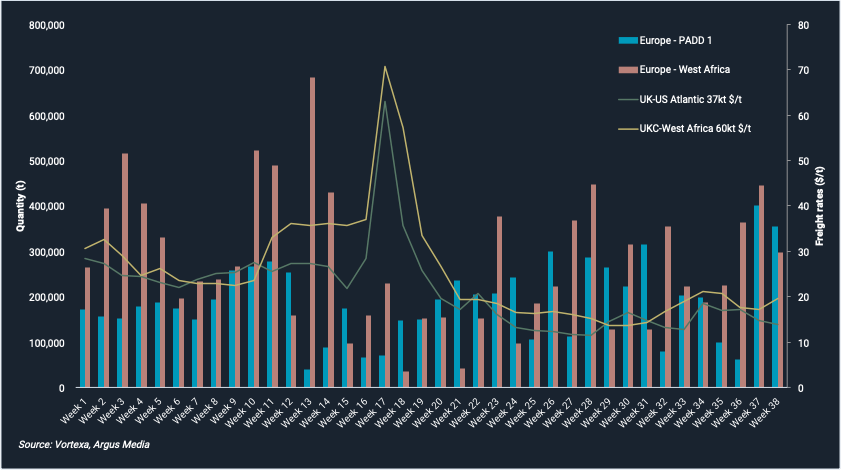 Gasoline/blending components exports year-to-date and corresponding tanker freight rates
See latest data in the Vortexa platform
Increasing gasoline flows to West Africa pushes freight up
Gasoline and blending components loadings from Europe destined for the West Africa region reached their highest levels since July in

the week ending 13 September, with 489,000 mt exported, or an increase of 120% from four weeks earlier

according to Vortexa data.
Nigerian gasoline price deregulation has led to record prices in the African nation so far this quarter and could rise higher still. This has fuelled a rise in Nigeria's gasoline inventories, driven by imports from Europe, as traders position cargoes to sell at higher prices in the future.

The increased gasoline demand from west Africa has had a positive effect on LR1 freight rates with the weekly average freight rate having risen 12% week-on-week providing much needed support to an LR1 tanker market

still down 23% from its weekly average year-to-date.
Transatlantic gasoline flows see an uptick, prompted by low freight
For gasoline flows heading west from Europe, the situation is a stark contrast to the one seen in west Africa. Continued weakness in the MR2 tanker market is making the Europe to PADD1 gasoline arbitrage even more attractive to market participants. Cargo loadings have averaged 362,000 mt over the 2 weeks ending 20 September, compared to average weekly flows of 190,000 mt year-to-date, or over 90% up, spurred by increased gasoline demand from the US as stocks have fallen.

Close to yearly-lows, freight rates for MR2 as of September have dropped 25% on the Europe to PADD 1 route month-on-month. The strong uptick in gasoline flows may help prop up a market in dire need of it, especially if tonnage is being booked towards other regions and across the larger tanker segments.

Looking ahead, the west of Suez clean tanker market is unlikely to recover anytime soon. Vortexa data shows 78 Medium Range tankers ballasting to Europe, compared to only a dozen open cargoes according to market participants. Freight rates are also coming under pressure from the threat of renewed lockdowns weighing upon gasoline demand, which in turn could drive even deeper refinery run cuts or shutdowns.
Want to know more about these flows and our freight data?
{{cta('bed45aa2-0068-4057-933e-3fac48417da3′,'justifycenter')}}