May saw arrivals of crude and products in West of Suez surging, while East of Suez markets disappointed across the barrel. There is room for improvement, but low crude activity merits caution.
The oil industry is used to growth dynamics being driven by markets East of Suez (EoS). Similarly, when Covid-19 hit the industry last year, EoS accounted for only a quarter of the global impact, when measured in the decline of seaborne arrivals across the oil barrel. In reverse, West of Suez (WoS) markets saw imports of everything from crude to clean and dirty products fall by more than 5mn b/d, of the global total decline of close to 7mn b/d.

Fortunes have recently changed, however, at least when looking back at seaborne trade in May 2021. Comparing arrivals in that month to the average of the 9 months from July 2020 to March 2021 (for key oil categories) shows a highly divergent path – see chart below. During the 9 month period, WoS saw solid increases in arrivals, led by crude and transportation fuels, and totalling 2.3mn b/d. In sharp contrast, EoS saw declines across the board, with a strong contribution of crude oil pushing the overall loss to 1.3mn b/d.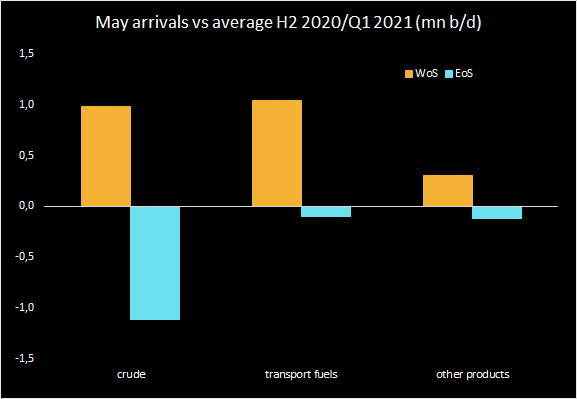 Dynamics in May arrivals split into West vs East of Suez
Looking at monthly values, May 2021 marked the second worst month since October 2020 in EoS markets, while for the Western world, May turned out to the best month ever since the pandemic seriously affected operations as of April 2020.

These trends are well aligned with Covid-19 patterns and refining economics. Driven by the US, but now also Europe, well-progressing vaccination programs are leading to lifting mobilty restrictions, giving a boost to private travel activity, at least on the roads. In combination with outages, like the one of the Colonial Pipeline system, refining margins got a boost that has been sustained for around three months. For the same amount of time, refining economics in Asia have been trending southwards, on a combination of a surge in Covid-19 cases, especially in India, and Chinese clean product exports swamping regional markets.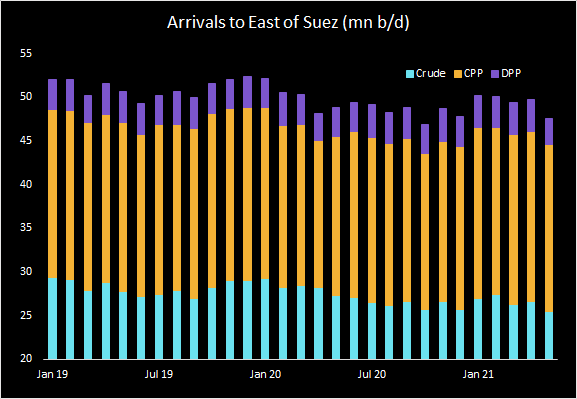 Arrivals to East of Suez markets
But how will things go on from now? For sure the divergence of market dynamics East and West of Suez will not go on forever. The West has the benefit of moving into peak season at a time of economic recovery. Furthermore, global departures of clean products have been stable in May relative to the previous two months, alleviating any concern of a looming seaborne surplus in the near future. And with Covid-19 infections easing EoS, one can clearly expect sustained demand growth in that region too. In particular, crude arrivals should make a U-turn, as OPEC+ announced additional supplies following the latest meeting, while China's imports may well have reached a bottom last month.

To conclude, WoS market dynamics provide some light at the end of the tunnel. But overall, prices are still rallying very much on forward looking expectations rather the fundamental realities. In particular, crude balances are primarily tightening on the back of supply constraints, rather than surging refinery intake. Seaborne crude departures in May came in at only 44.5mn b/d, down by 1.8 mn b/d m-o-m. In that context, it does not come as a surprise that dirty freight rates are stuck in the doldrums. But the hope remains that things improve going forward.
Want to get the latest updates from Vortexa's analysts and industry experts directly to your inbox?
{{cta('cf096ab3-557b-4d5a-b898-d5fc843fd89b','justifycenter')}}
---
More from Vortexa Analysis