Celebrating International Women's Day at Vortexa
Vortexa proudly celebrates International Women's Day! We asked some of our employees to share why this day holds such importance to them and which women in their lives has served as a great source of inspiration.
08 March, 2021
"I raise up my voice-not so I can shout but so that those without a voice can be heard? We cannot succeed when half of us are held back."
– Malala Yousafzai
The global event of International Women's Day (IWD) on the 8th March offers us the annual opportunity to reflect on and celebrate the social, economic, cultural and political achievements of women. IWD also provides us with the space to reflect on how far we've come and also what's ahead. There is no doubt we have come a long way, but there's still an incredibly long way to go.
---
Joining the global conversation
International Women's Day is an international initiative that gives us the opportunity to recognise the achievements of the women that work at Vortexa – all pictured below.
We spent some time sharing experiences and discussing with our wider teams (both men and women) which women in their lives they have felt most inspired by. Here are some of their stories: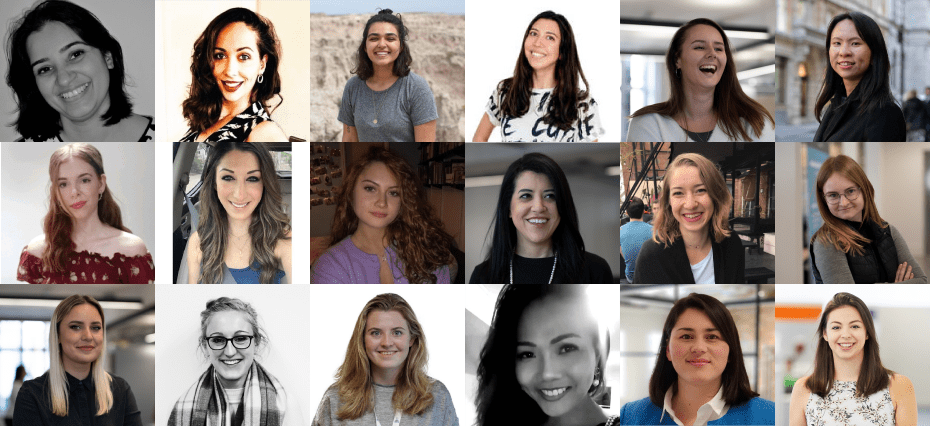 Celebrating inspirational women
Pam Munger, Senior Market Analyst:
Celebrating Angela Ahrendts – Apple former retail chief and former CEO of Burberry
"The intuitive, feeling heart will never mislead you, in work, a relationship, or with family," she said in a 2010 commencement address.
Throughout her career Angela says she has been guided by midwestern core values like compassion, humility, and ambition which she has been quoted saying that it took "20 years of youth, 30 years of experience and five months of reflecting to discover."
I admire her for sticking to these core values or at times, like most of us, finding her way back to them after bumps in the road and periods of reflection. It takes confidence, resilience, and intellectual curiosity to pursue the long road to success.
I believe these qualities could be the reason she has achieved some of her greatest accomplishments: finding inspiration from a tech company to turn Burberry around and re-calibrating Apple's retail strategy to a more intimate and personal one all the while making time for her family.
She has long been known for her personal touch management style and genuine interest in her interactions with employees which I believe to be a timeless motivator to all generations and backgrounds.
Jessica Irvin, Head of People & Operations:
Celebrating Simantoi Founder of Memusi School, Magadi, Kenya
Simantoi founded the Memusi School in Magadi and, in partnership with Matthew Norton (Memusi Foundation founder), built the school to be a centre of excellence. I am lucky enough to be able to support Memusi and have volunteered at the Memusi School in Magadi.
The majority of the pupils are Maasai. In Maasai culture it is very common for girls to not even be given the chance to attend school but also very common for those attending to drop out of school due to financial struggles, family duties and arranged marriages. The Memusi School has forged really close relationships with the Maasai community, demonstrating the value of education and half of the pupils within Memusi's schools are female, which is a phenomenal achievement.
For the vast majority of the pupils they are the first in their families to attend school, have to walk up to four hours each way to get to school and then have chores when they get home. However, this doesn't diminish their spirit or how much they value their education. By having girls and boys educated together, it has allowed Memusi to talk to both the girls and boys at the school about female genital mutilation (FGM), illegal marriages, the power of education and the right for equality amongst girls.
Unfortunately, we lost the incredible Simantoi in 2015 but her legacy lives on in the Memusi school she founded and the local community she worked so hard to serve.
Lauren Thorpe, Marketing & Events Manager:
Celebrating her Mum
"Whilst I am inspired by all the strong and courageous women around me, I would say the woman that inspires me most is my mum. She taught me how to be opinionated, confident, and how to stick to my guns.
From leading the family, working two jobs and going back to university with two young kids, she inspires me to continue to move forward and not to quit when I really want and believe in something. Now she inspires me to want to have the same relationship with my future kids that she has with me. She really took the Mean Girls quote "I'm not a regular mum, I'm a cool mum" to the next level (in a great, almost non-cringey way!)"
"The best way for us to cultivate fearlessness in our daughters and other young women is by example. If they see their mothers and other women in their lives going forward despite fear, they'll know it's possible."
– Gloria Steinem
Nat Day, Geospatial Data Analyst:
Celebrating his Mum
"As I have grown up, I have been lucky enough to be continuously surrounded by inspiring Women; my teachers at school, the friends I made throughout my education, and the incredible colleagues I've met at Vortexa. I truly believe that without all of these great Women in my life I wouldn't be the person I am today. The person I am most grateful to is my Mum.
My Mum grew up in Newcastle, and recently told me that her Mum, my grandma, instilled a love of reading and education in her which together with the growing up in the 70's and 80's ensured she had a chance of success in life. I'd say her life has been incredibly successful. When I was still a baby, she opened a nursery. She built this business while raising three kids and still owns it today. My mum also shoots match rifle as a hobby, she recently came 4th overall in a national competition, a sport normally dominated by men, which has resulted in her being selected for the GB squad travelling to compete in Australia next year. Her success in business and her hobbies is massively inspiring to me, I hope one day to be as successful as she is.
What is most inspiring to me is that while all this success has come in parallel to raising three kids: when I was younger, I used to love ice skating, so much so that I used to go Ice skating before school at 5 in the morning, my mum took me every morning. When I struggled at school, she helped me with my homework. When I started playing rugby, she came to watch every game. In my final year of university and I was struggling with my mental health, she was there for me. What I'm trying to say here is that whenever I had a passion for something, she helped me succeed and whenever I needed help, she was there to help me.
In summary, the amazing achievements and the support I have received continue to inspire me every day and I am eternally grateful for everything she has done for me."
Dominika Wojcik, People Operations Specialist
Celebrating her Mum
"The biggest inspiration in my life is my mum. She was the kindest, most selfless and most generous person I've ever known. Growing up I watched her dedicate herself to raise, support and take care of me and my siblings – and we were a handful!
She's always been there for people that needed her, her friends and family, even and especially when she was going through some tough and challenging times.
The most important thing I learnt from her was to be compassionate, kind and look after people that surround me. "
"There's power in allowing yourself to be known and heard, in owning your unique story, in using your authentic voice."
– Michelle Obama
---
These incredible stories of inspirational women that our team have kindly shared with us show the impact these women have had on others through living their values every day and being authentic – definitely something for us all to learn from and celebrate!
We hope these stories have inspired you and given you the opportunity to reflect on the women in your life who have inspired you in the past and those that continue to inspire you.
To learn more about International Women's Day and discover more about diversity and inclusion at Vortexa, check out the links below:
https://www.internationalwomensday.com/