A day in the life of…Martyna Barysaite, Digital Marketing Executive
Ever wondered what a day in the life looks like at Vortexa for a Digital Marketing Executive?! We sat down with Martyna Barysaite to discover what winning qualities you need to succeed, who she collaborates most with in the company and how she ended up working at Vortexa…
15 January, 2021
Martyna graduated University of the Arts London in 2015, followed by 4 years as a Marketing Executive at White Light Ltd, prior to joining Vortexa in 2019. Martyna
believes that laughter can save the world and the first thing she plans on doing post-lockdown is seeing a show at a comedy club in London!
---
What does day-to-day life in your role look like?
Lots of planning goes into it, so rarely unpredictable, but nevertheless very dynamic. I look after digital channels primarily, so at any given time I can be working on a range of things from creating ads to testing website to researching strategy to editing videos. It's normally a mixture of both creative and technical tasks.
What would you say is the most interesting aspect of your role?
Having to understand what makes people tick, coupled with maintaining curiosity and expertise in new developments within the digital landscape. With all the new tools, apps and social media networks popping up, not only you have got to know what's up, but you must also challenge yourself to really think and find new, innovative ways to make them work for your business. It's a bit like learning the rules in order to break them, except that the rules constantly change.
What was your path to joining Vortexa?
Before joining Vortexa, I worked in entertainment tech, which was the world of theatre, broadcast and events – miles away from oil & gas! Upon learning about the opening at Vortexa, my then-partner gave me a truly passionate speech about the commodities market, which really sold it to me! Working in an industry that has direct influence over pretty much everything in the world was a thrilling idea.
What kind of qualities does a person need to have to succeed at Vortexa?
Perseverance, passion and a sense of humour.
What do you like about the culture?
Authenticity and autonomy is celebrated, but so is kindness and connection. My experience at Vortexa is that your colleagues will genuinely try to get to know you, learn from you, offer you their knowledge, challenge you and root for you. Thinking about the answer to this question made me really miss going to the office!
What are the first three things you do on a Monday morning?
Hit snooze one, two, three times? I'm terrible like that! But then again, isn't sleep one of the greatest luxuries in life?
Who do you collaborate most with in the company?
The commercial part of the company, my fellow marketing team members (hello team!) topping the list. Thanks to our weekly Friday workshops though, in which different teams present what they're working on and share feedback, I feel pretty involved with all teams at any given time.
What energises you most about working as a Digital Marketing Executive at Vortexa?
Being surrounded by very brilliant, driven people, knowing that we're creating something that is contributing to making energy market more efficient and learning all the geeky little facts about the world of oil & gas and shipping: Did you know that in the XIX century, captains would place a pineapple outside their homes to let their friends and families know they have returned from their voyages? Well, next time you see a pineapple adorning somebody's gate or a building, you'll know the story behind it!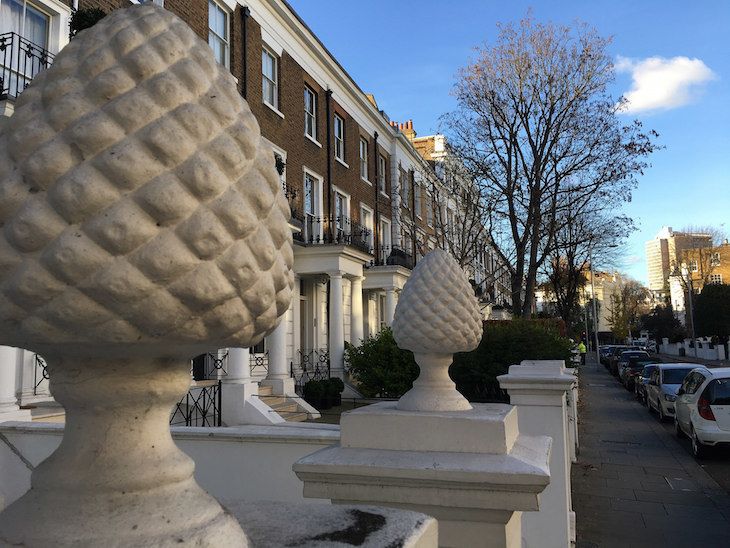 Pineapples outside a house on Drayton Gardens in Chelsea. Photo: Shakespearesmonkey
---
Interested in joining our team?
{{cta('82cf927f-f4ab-44b8-9e60-aca2748499d7′,'justifycenter')}}