Collapse in West African supplies hits dirty freight segment hard
West African crude exports fell to a record low in August, underlying the acceleration of a structural decline that can be traced back to back to early 2020. The impact of this development on the dirty freight segment is difficult to overstate.
08 September, 2021
West African crude/condensate exports dropped to just 3.14mn in August, marking the lowest monthly total seen by Vortexa since at least 2016. The record low highlights a more structural decline in exports going back to early 2020.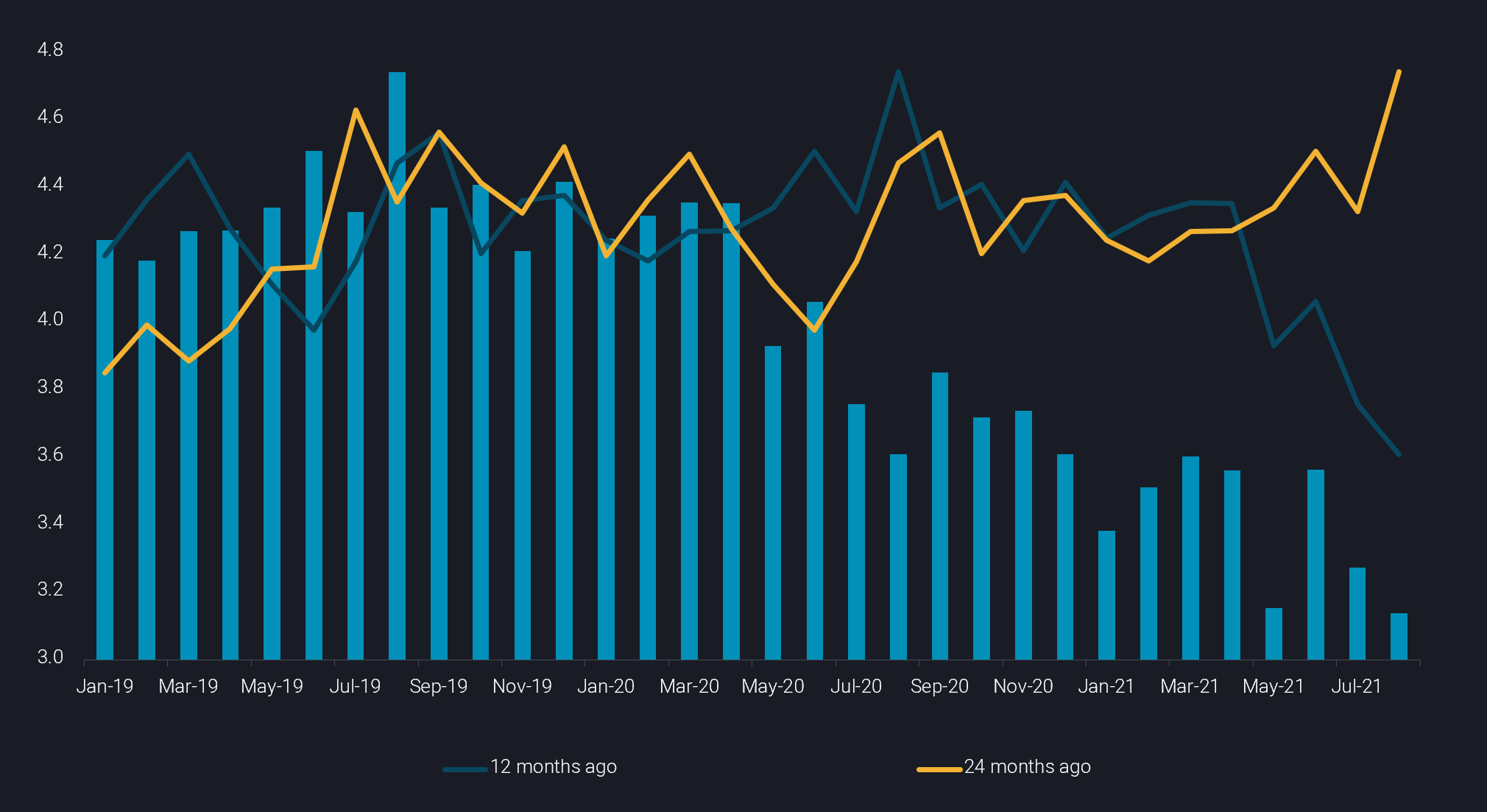 West Africa crude/condensate exports (mn b/d)
West African crude exports have been consistently falling since the first quarter of 2020, suggesting that the main factor driving weaker exports is natural decline in production. To put the level of decline in context, August's 3.14mn b/d of exports is down by a third or 1.6mn b/d from August 2019 levels, which coincidentally marked the highest level on record.
Preliminary indications from loading programs had suggested an increase in September loadings from Nigeria (1.65mn b/d versus 1.22mn b/d actual in August) and a slight increase from Angola (1.05mn b/d versus 909,000 b/d actual in August). But ongoing infrastructure issues for loading key grades Nigerian grades Forcados and Qua Iboe have dented expectations of a West Africa crude exports recovery this month.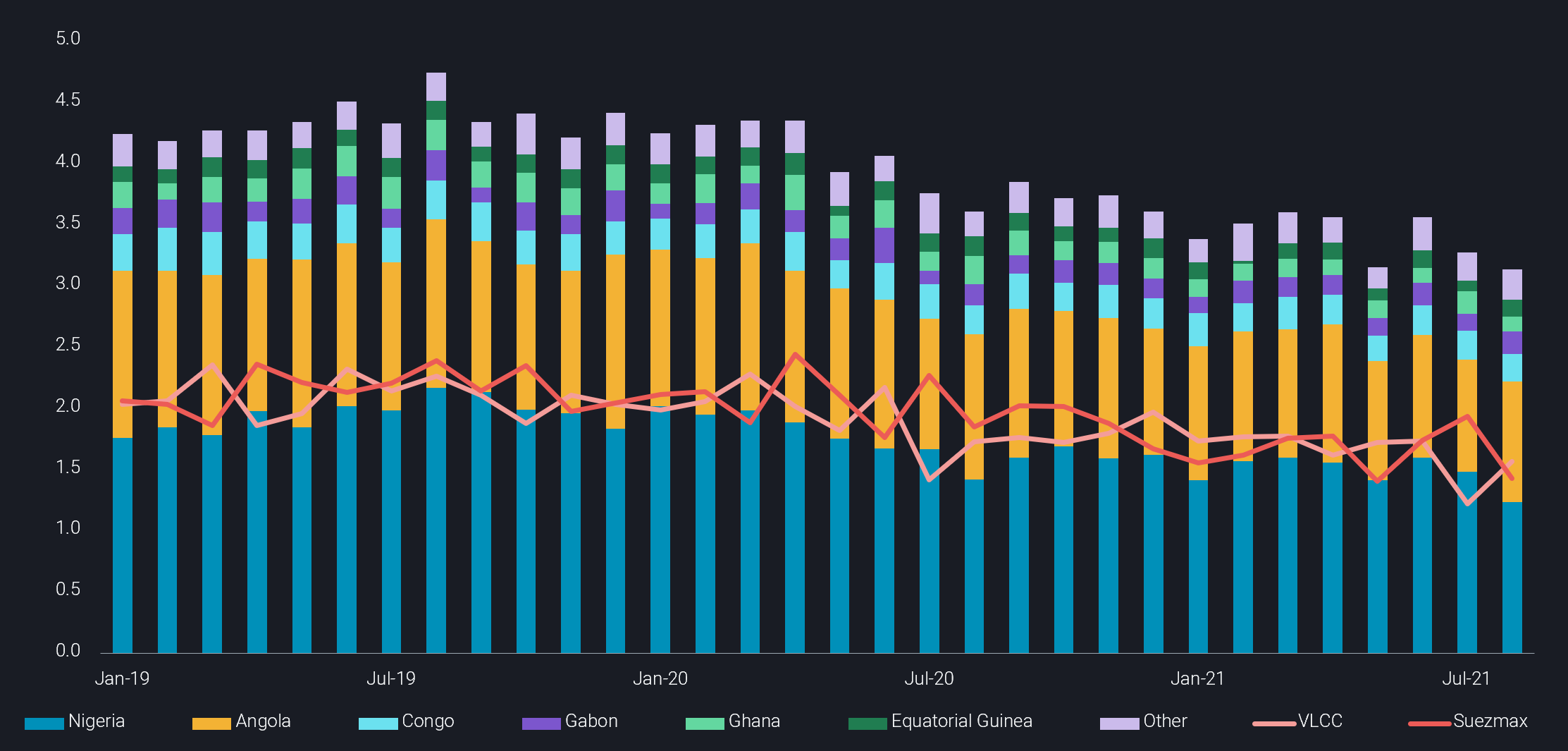 West African crude exports by main country and vessel class (mn b/d)
With no significant new upstream projects expected to come online in the region before the end of the year, and a wider backdrop of weaker global investment appetite in oil and gas production, the outlook for West African crude production (and therefore exports) also looks bleak. West African crude exports were already down by 9% y-o-y in 2020, and this has accelerated to 16% so far this year, hinting at a decline rate of at least 10% materialising in production without fresh investments. This pattern can be observed pretty consistently across the region's individual producing countries.
A likely continuation of recent trends would put West African Opec supplies at 0.7mn b/d lower at the end of next year, compared to Q1 this year. Meanwhile, current OPEC quota allocations would ask for 0.7mn b/d more crude oil over the same period, thereby opening a gap of 1.4mn b/d of 'missing' barrels.
From a shipowner's perspective, the demise in West African supply constitutes one of the key reasons behind dismal earnings, probably second only to Covid-19 repercussions and possibly still ahead of the loss to dark shipments of sanctioned Iranian and Venezuela barrels. Apart from the massive decline in outright volumes, this is about the long distances all West African barrels have to travel to consumers, especially to Northeast Asia. But also lost shipments to Europe and North America are of relevance, especially if they are replaced by pipeline supplies or local shipments.
Relative to 2019 average levels, the dirty tanker market has lost nearly 30bn tonne miles in July and August. Compared to August 2019, 29 less Suezmaxes and 18 less VLCCs have left West African shores. Taking into consideration that a VLCC round-trip to China takes close to three months, the monthly equivalent loss of occupation is probably around 45 VLCCs, a relevant chunk of the global fleet.
Unfortunately, this trend is highly unlikely to change. Furthermore, rising OPEC Middle East exports, targeting primarily the currently relatively lacklustre Asian market, are also likely to constrain Atlantic Basin crudes within the west of Suez market – which would pressure tonne-miles even lower.

West Africa crude tonne-miles (bn) vs 2019 average
More from Vortexa Analysis