Naphtha persistence lifts LR1 tanker rates in the Middle East
Firm naphtha demand and discount to LPG, has boosted naphtha flows. At the same time LR2 tankers are involved in trades of other products, letting LR1 to gobble up market share from the Middle East.
25 August, 2021
Firm naphtha demand and discount to LPG prices has boosted naphtha volumes. At the same time, LR2 tankers are involved in trades of other products, leaving LR1s to gobble up naphtha market share out of the Middle East.
As the summer period is coming to an end, global naphtha exports are remaining strong, having even surpassed pre-pandemic levels. August overall exports are currently at 3.35 mn b/d, up by 7% from July levels. This boost in naphtha volumes is mainly supported by a firm demand in the petrochemical industry, apart from residential demand and some gasoline blending.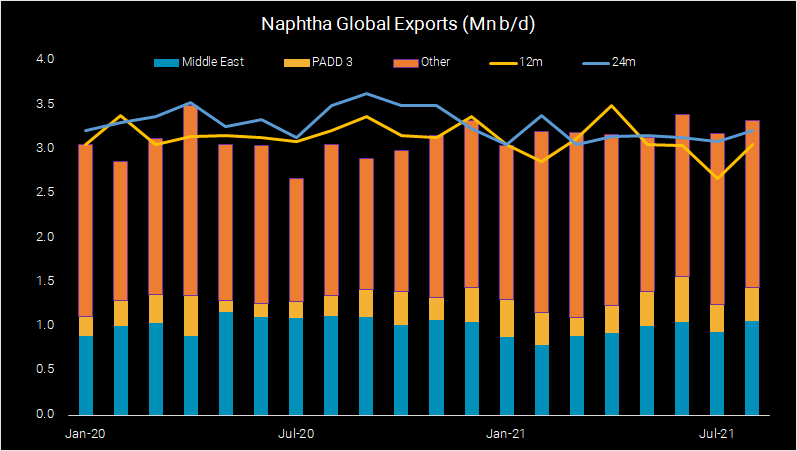 Despite the strength in the flows which indicates higher demand levels, naphtha prices remain at a counter-seasonal discount compared to LPG, the other main feedstock in the petrochemical industry for plastics production. Making a highly unusual move at this time of the year, naphtha tumbled from being at par with LPG a month ago to a discount of approximately $90/t in Asia, according to Argus Media.
The reason behind this pricing difference between LPG and naphtha is two-fold. On the one hand it has to do with the weakness seen in crude prices throughout August, which has rippled through to naphtha. On the other hand, LPG demand continues to outstrip supply, keeping butane and propane prices at multi-year highs. The relatively cheaper naphtha prices are spurring additional buying interest from the petrochemical industry in Asia and Europe, as steam cracker operators with flexibility in their feedstock arrangements will seek to alter their slates to accommodate for more naphtha at the expense of propane.
Impact on Freight
The positive naphtha landscape has made an impact on the freight industry as well. Traditionally, LR2 tankers are utilised for the global naphtha trade, especially out of the Middle East, however this summer saw LR2 tankers strongly employed in trade of other clean products, with an uptake on diesel/gasoil and jet/kero voyages. This development paved the way for LR1 tankers in the Middle East to increase their activity in naphtha loadings at the expense of LR2s. More importantly, weekly LR1 naphtha utilisation out of the Middle East has risen from annual lows of 5 vessels in late May to 20 vessels currently.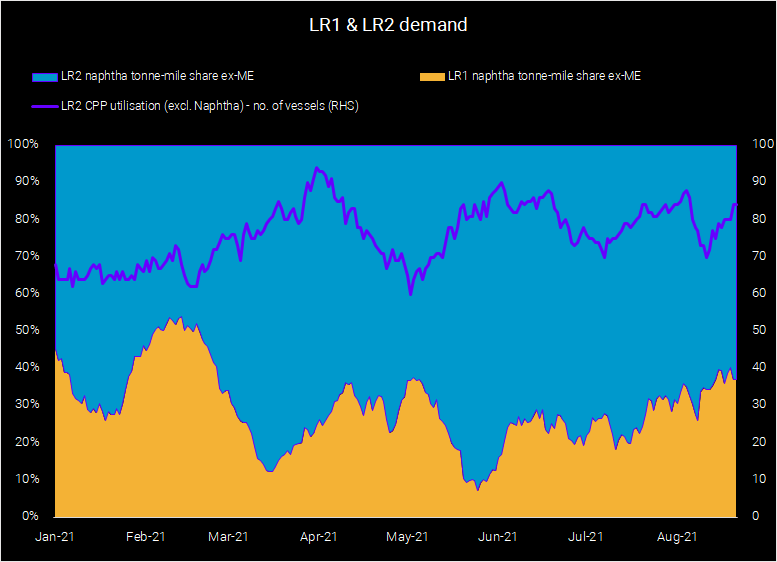 This incremental naphtha interest combined with the absence of LR2s on the naphtha trade, in turn boosted LR1 freight rates. Evidently throughout August, Middle East – Japan LR1 freight rates rose by 59%, whereas Middle East – Europe LR1 freight rates rose by 48%, according to Argus Media price assessments.
Outlook
The discount of naphtha to LPG is generally poised to continue as we proceed towards the winter where seasonally LPG prices will be supported by the pick-up in heating demand joining the petrochemical sector, whereas naphtha prices are likely to ease relative to crude along with a weakening of gasoline blending activity. Appealing naphtha prices, hence, are set to keep trade volumes high. However, cheaper LR2 tanker freight rates (the current discount to LR1 is at $10/t for the trademark Middle East – Far East route) are likely to incentivise traders to shift their cargoes back to this tanker class.
More from Vortexa Analysis