The reshuffling of Russian diesel flows offers some surprises
More Russian diesel may stay in European markets than initially thought, even though many buyers are staying away from cargoes for now. But key buyers are making up for this, limiting unusual outflows to Asia so far.
15 March, 2022
Early indications of Russian diesel cargoes being stranded and displaced from their home destination in Europe to more distant markets are emerging through unusual behaviours and headings of several tankers this week. By no coincidence, tanker bookings to load diesel from Asia to Europe have registered a sharp rise in the recent week after a lull since last quarter. As European refiners seek to replace Russian diesel barrels, a reshuffling of diesel trade flows is starting, and the magnitude of displacement remains to be seen in the weeks ahead
Russia's diesel loadings from its Baltic and Black Sea ports have held stable at 1.15 – 1.2mbd in the last two weeks. But there are growing signs that more Russian diesel cargoes are facing difficulties finding a home in diesel-starved Europe, with some heading to Asia instead.
MR tanker Champion Tern and Handysize SW Cap Ferrat I loaded from Russia's Black Sea ports early this month and transited through the Suez Canal, an unusual move, likely headed for Asia

Handysize Banglar Agradoot which loaded from Russia's Kaliningrad in early March, was previously declaring destinations as Rotterdam and Gibraltar, but has bypassed the ports and is now signaling Port Said, possibly heading to Asia as well

Further tankers, incl. Marlen, Histria Gemma and Clotilde, could also be candidates to leave the region to the East or Atlantic markets
Russian oil companies are actively seeking alternative buyers for some of their diesel cargoes, with Asia being an option. But the financial and logistical challenges that are standing in their way may take a while to be sorted out. At any rate, the cargoes discussed above account for a tiny fraction of Russia's total diesel exports, and it has to be seen how consistent flows to the East will be.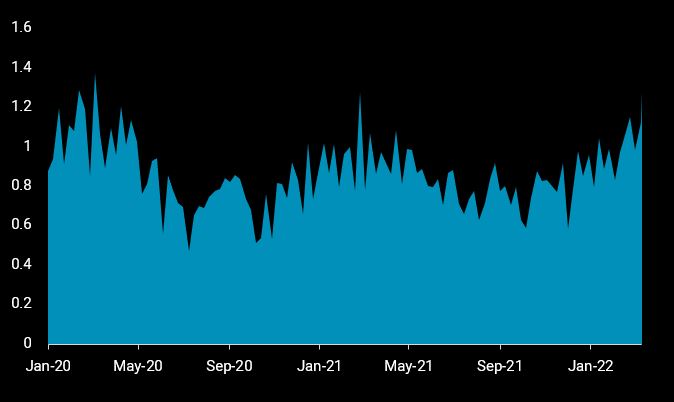 Russia Baltic and Black Sea weekly diesel loadings (mbd)
Currently six European countries take the majority of Russian exports
After all, much more Russian diesel may stay in the region than initially thought in spite of many European countries being hesitant or shunning Russian supplies altogether. An analysis of our data, involving some estimated destinations, suggests that six European countries will take the majority of all cargoes loaded from the European side of Russia. Germany, the Netherlands, Poland, Turkey, Greece and Italy are on track to double their intake to 600kbd, based on all Russian loadings in the first half of March.
Partly this may be a temporary solution, and some cargoes may still be re-routed or possibly even re-exported later on. The crucial question will be whether some of the other European countries, which take currently much less Russian diesel, may reconsider their decisions. Otherwise, it is still possible that more Russian diesel will flow to East of Suez markets, West Africa or Latin America. But altogether, the indications at this point of time are that most Russian diesel will stay in Europe.
Departures of Russian-loading diesel (excl. Russia Far East and tiny tankers) by destination (kbd)
Europe pulls more diesel cargoes from the East, low expectations on US
The significant widening of the east-west diesel arbitrage, following fears of a severe tightening of European diesel supplies, has driven a flurry of Asian diesel cargoes to Europe. Despite the steep diesel backwardation in Europe, close to 200kbd of diesel cargoes are loading from Asia to Europe this month based on our preliminary estimates, with India accounting for 80% of the supplies.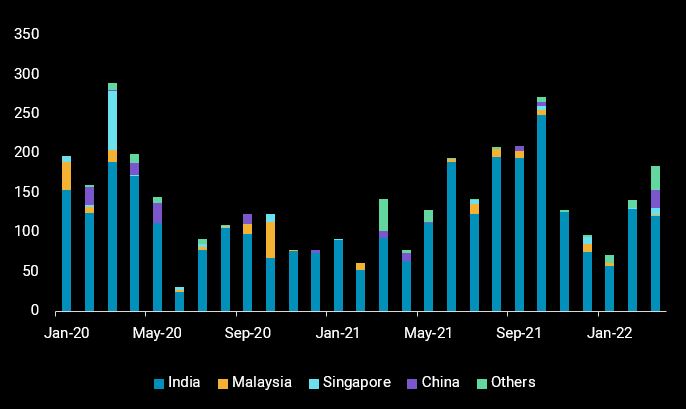 Asia diesel loadings to Europe by origin countries (kbd)
With US Padd 3 diesel inventories at multi-year lows and a seasonally strong import demand from LatAm, US diesel exports to Europe are likely to remain subdued. But the Middle East could offer more supplies as regional refineries return from planned maintenance in the weeks ahead.
Europe may be suprisingly well supplied
As a consequence of the above developments, Europe as a whole may be surprisingly well supplied in the coming weeks and months, taking also a brief seasonal pause in consideration as well as potential fall-outs from high prices. This also fits nicely with somewhat cooling diesel cracks over the last couple of days. Together with the tight diesel market in Asia, the east-west arbitrage has narrowed, which is likely to weigh on arbitrage exports from Asia in the weeks ahead.
More from Vortexa Analysis