The Atlantic Basin pulls diesel into the spotlight
As diesel strengthens against gasoline in the Atlantic Basin, will East of Suez diesel exports dampen the flames or will diesel continue to strengthen in the next six months?
09 September, 2021
Summer 2021 witnessed a US led Atlantic Basin demand strength, keeping gasoline and naphtha cracks well supported at a time when East of Suez markets battled a resurgence of lockdowns and general poor demand for transportation fuels.
Now that the peak of that demand in the form of driving season has come to an end and winter spec changes are implemented, we look towards the Atlantic Basin once again, this time for diesel demand to shine brightly and lead the refining cracks through the winter months. Recently, diesel cracks have improved due to strong road travel, especially in Europe, agricultural usage and home heating fuel stocking, but is the demand spark enough or will the growing exports from East of Suez quickly dampen the flames?
The supply story
As we look at Vortexa flows data, August global diesel exports hit 7.98 mn b/d, the highest August export number in the Vortexa data set.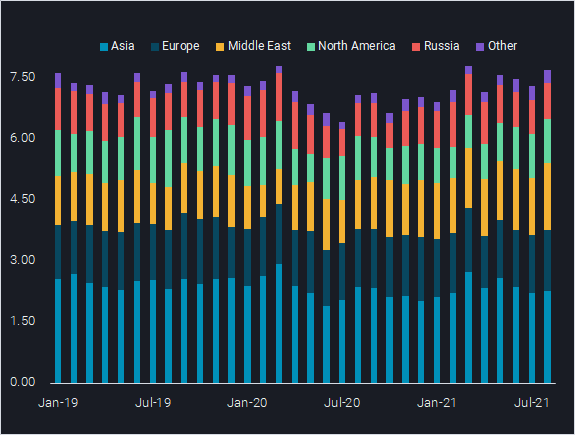 Global diesel loadings (mn b/d)
The Middle East is driving up the supply as the refining sector runs at 2019 levels. Meanwhile India and South Korean refineries re-emerge from lockdown exporting 989,000 b/d in August, close to the 1 mn b/d exported during August in previous years. In contrast, China's fuel exports continue to be very low in comparison to historical standards and all indications are that Chinese refineries and product exports will continue at reduced rates.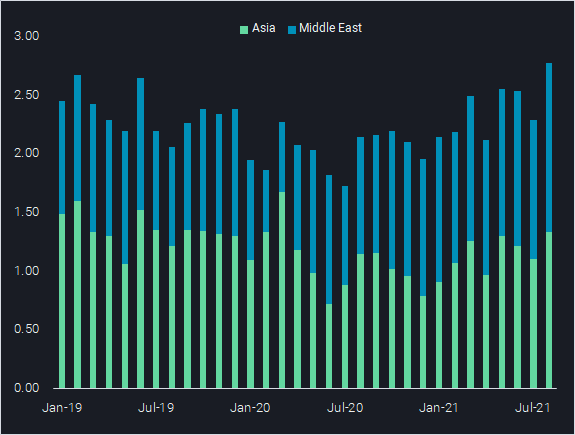 Asia and Middle East diesel exports (mn b/d)
While East of Suez export volumes look to be on a steady increase (with maiden voyages on VLCCs helping the development), Russian diesel exports are trending the opposite direction due to heavy Q3 refining outages. As the key diesel supplier into Europe, low available cargoes could mean we start to see prices signaling to European refiners to fully maximise yields again, to make more diesel at the expense of gasoline.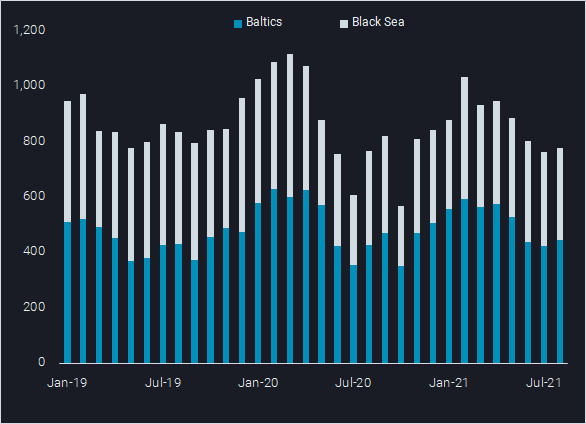 Russian diesel exports by port (kbd)
The demand story
At a time when East of Suez diesel supply is rising and demand waning, the West of Suez tells a different story. Diesel demand can be seen surging in Latin America, the US, and Europe, with a specific impetus coming from agricultural use as harvest season is well under way. Growing volumes from the Middle East and Asia can be seen arriving into Latam to feed this demand.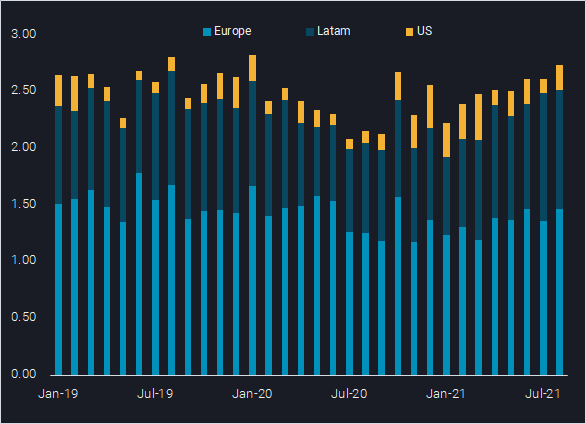 Diesel imports to Europe, Latam, US (mn b/d)
Road fuels demand in Europe has also been a pull factor, with some additional needs for gasoil in home heating throughout the winter showing up on the horizon. As weekly PADD 1 distillate stocks slowly climb up from the bottom of the five year range, we expect to see volumes headed to New York Harbour for restocking, likely from Canada or Europe. The recent storm that caused power outages in Louisiana and flooding in some northeast terminals will also likely stretch out any domestic restocking.
In conclusion, as gasoline looks to weaken against diesel coming into the winter months, this may be a volatile process and take some time to materialise. Currently it's highly questionable whether diesel can take a solid lead over gasoline, at least not consistently throughout the next few months.
More from Vortexa Analysis