Global sweet crude exports edge higher in January
In this insight, we will drill into the details of export trends among the most important sweet crude producers for the global market.
10 February, 2022
Outright prices for crude oil have been climbing in recent weeks and in our view, sweet crudes could be a crucial component in either extending or depressing the current trajectory. In this insight, we will drill into the details of export trends among the most important sweet crude producers for the global market.
Global exports of sweet crude set a seven-month high of 11.6mbd in January but posted only a small m-o-m rise of 80kbd. This 80kbd rise marks a sharp deceleration in growth of global sweet crude exports. Global exports grew m-o-m in October, November and December by 300kbd, 170kbd and 490kbd, respectively.
Among the largest sweet crude exporters the key trends for January are:
West African exports lower 130kbd m-o-m, down to 2.8mbd, as an uptick in Nigerian exports is more than offset by weaker exports from Angola and other smaller regional producers
PADD 3 exports posted a 140kbd m-o-m rise, up to 3.2mbd, extending a trend of consecutive m-o-m increases going back to October
East Coast South American exports reversing a downward trend seen in recent months (up by 130kbd m-o-m)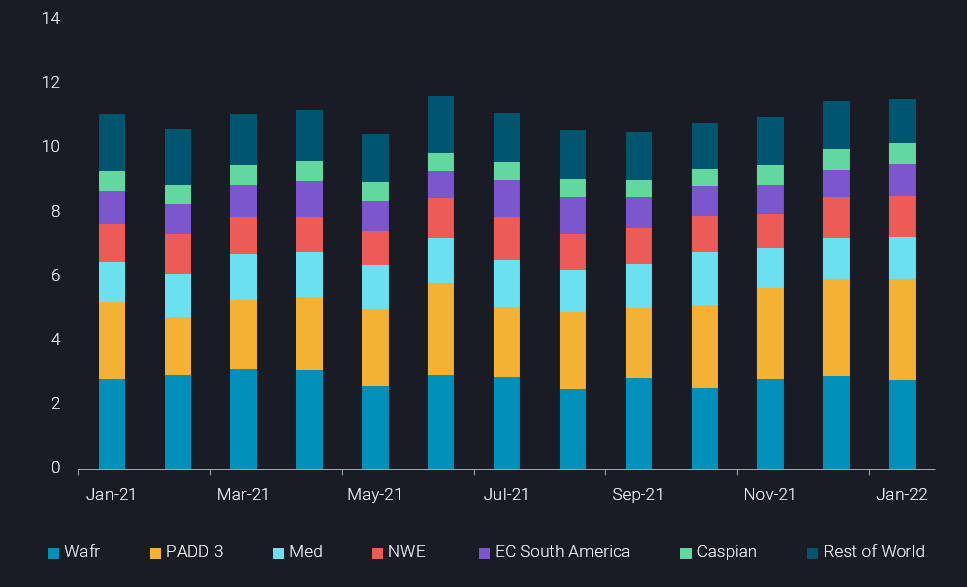 Global sweet crude exports by origin region (mbd)
This increase in global sweet exports seen since Q4 2021 comes in handily as the global refining system has been seeking a sweeter barrel in response to rising energy (and therefore total refining) costs. However, upon closer inspection there are major divergences in how exports have performed in different regions (see chart below).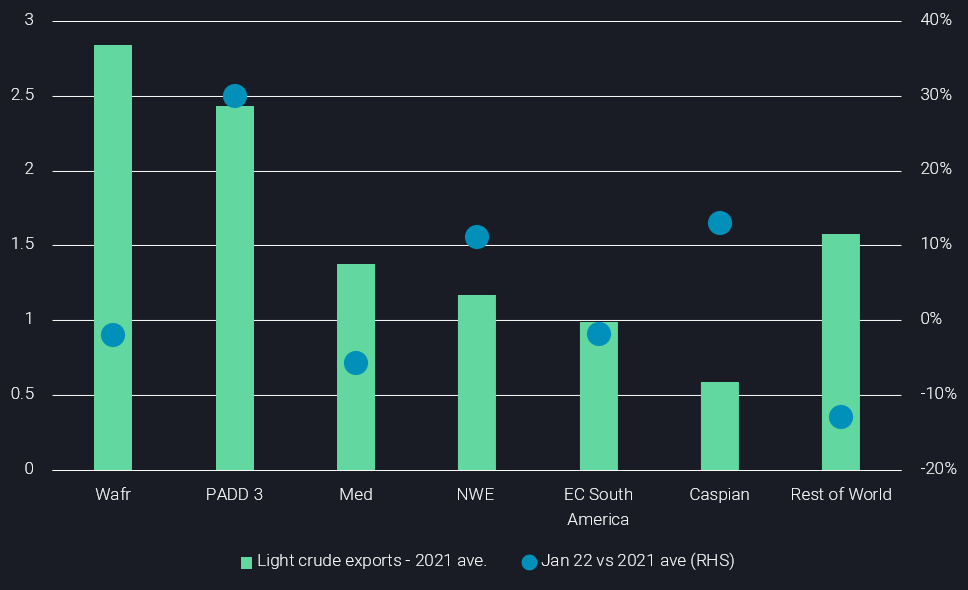 Sweet crude exports 2021 average by origin region (mbd) vs percentage change in Jan 22 exports against 2021 average (RHS,%)
By taking the average of 2021 exports as a baseline, January exports for PADD 3, NWE (which includes the North Sea) and the Caspian have been pretty strong. But in contrast, the rest of the world's sweet producers – including those in West Africa, the Mediterranean and East Coast South America, have lowered exports.
Premiums of North Sea Dated and CPC Blend to Ice Brent have been climbing to record levels, and the same goes for prompt delivered US crude in Europe (Argus Media). Market players are clearly scrambling for affordable or at least available supplies. On the sweet crude side, there is only one hope: the US shale industry, as recent increases from the North Sea or the Caspian are unlikely to be built on much further.
And the chances that the US will boost investments, drilling and finally supplies, are growing by the day as prices rise. The other hope for refiners, i.e. extra OPEC+ barrels, does not appear to be materialising. Our OPEC+ seaborne January export figure is below Q4 2021 average levels, marking the second m-o-m decline in a row.
If supplies fail to materialise fast enough, and as further stockdraws are increasingly unlikely, the only feasible lever to rebalance the market is demand destruction. But this option would require even higher prices to leave a substantial mark. As the saying goes: only high prices cure high prices…
More from Vortexa Analysis