The Omicron tide is sweeping through Asia, fast and furious. The region's oil demand was on a path of steady recovery last quarter after a longstanding battle against the Delta variant, but the new variant is now threatening to pull the brakes on the recovery.
The risks of supply chain disruptions are rising from a much more contagious strain that has seen infection rates ballooning faster than the Delta variant. Growing oil prices and inflation rates are further dampening consumer sentiments, casting headwinds on Asia's oil demand.
Asia's oil demand slows with rising crude inventories and falling imports
Asia's crude imports and inventories offer a barometer of the region's short-term forward demand. While crude imports into the region in January were up 5% (or 700kbd) month-on-month to 22.8mbd, onshore inventories rose even faster at 900kbd to 1.47bb (billion barrels), marking a fall in the region's implied crude consumption. Early indications suggest that regional demand could see a further slowdown as global crude loadings to Asia fell for a third consecutive month to 20.3mbd in January.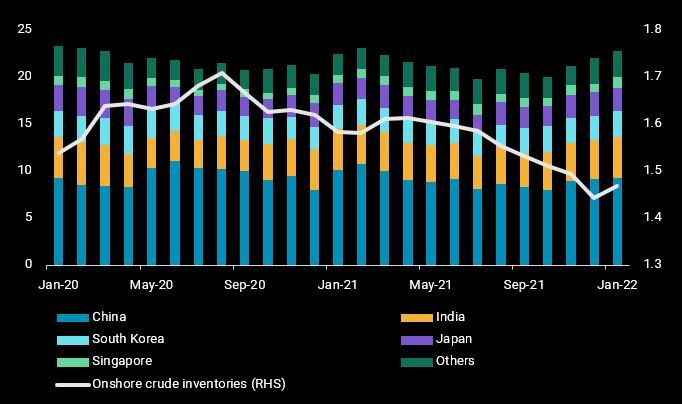 Asia's crude imports (LHS, mbd) and onshore inventories (RHS, bb)
Regional gasoline demand dented, downside risks from more stringent restrictions
Across the region, most countries are witnessing slowing gasoline demand as driving activity falls. The crucial difference this time versus last summer is that none of the countries have imposed strict lockdowns so far, apart from localised movement restrictions in China, hence cushioning the impact on gasoline demand.
As a case in point, gasoline imports into Southeast Asia, a proxy to the region's demand were down in January versus Q4 last year but remain 20% higher than last September, when the region was at the depths of the pandemic. But with many countries seeing a sharp rise in infection rates in recent weeks, hospitalisation and fatality rates may follow, potentially putting a strain on healthcare capacities that could see more stringent mobility restrictions being imposed, threatening gasoline demand. On the flip side, market participants are looking towards a possible relaxing of China's zero-covid strategy after the Beijing Olympics which would be a bright spot for the market.
Diesel demand sees mixed trends across countries
Regional diesel demand trends are mixed. China and India's industrial output fell in January versus last December, stymieing diesel consumption. With the Lunar New Year and Beijing Olympics this month, manufacturing activity in China is likely to remain subdued. But the government's infrastructure stimulus this quarter should see construction picking up next month, which coupled with the spring rice-planting season, should boost domestic diesel demand. In contrast, Southeast Asia's diesel consumption has remained resilient in the new year, with imports into the region up almost 20% in January versus last quarter. Rising infection rates are nevertheless posing growing risks on supply chain disruptions, which could dent road freight and diesel demand.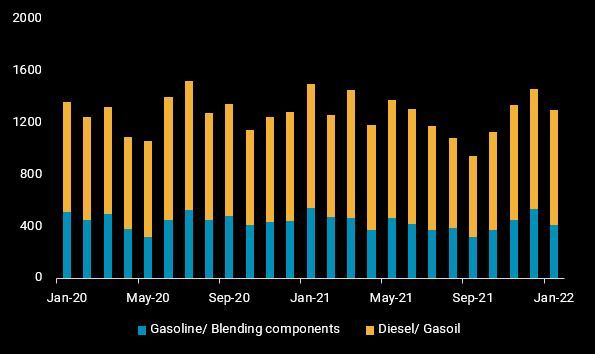 Southeast Asia's gasoline and diesel imports (kbd)
Omicron's impact may be limited, but inflation needs to be controlled
While Asia has yet to see the full impact of the Omicron pandemic on oil demand, it can draw some comfort from seeing the relatively limited impact that the new variant has in the West so far. More crucially, regional countries would have to balance the impact of the pandemic and inflation carefully to avoid a double blow on the region's oil demand.
More from Vortexa Analysis