What's driving Russian oil exports lower in July?
Russian seaborne crude and clean products have undergone a significant decline in July. We examine the key factors driving this shift, including rising pipeline flows and a tightening domestic gasoline market.
04 August, 2021
Russia's seaborne oil exports declined significantly in July as more crude moved via pipelines, including into the nation's refineries in response to a tighter domestic gasoline market.
Preliminary data from Vortexa shows total Russian seaborne oil exports in July fell to around 6.5mn b/d, down from 7.3mn b/d the previous month. Slower crude/condensate exports account for much of the total decline, while clean product exports also fell month-on-month.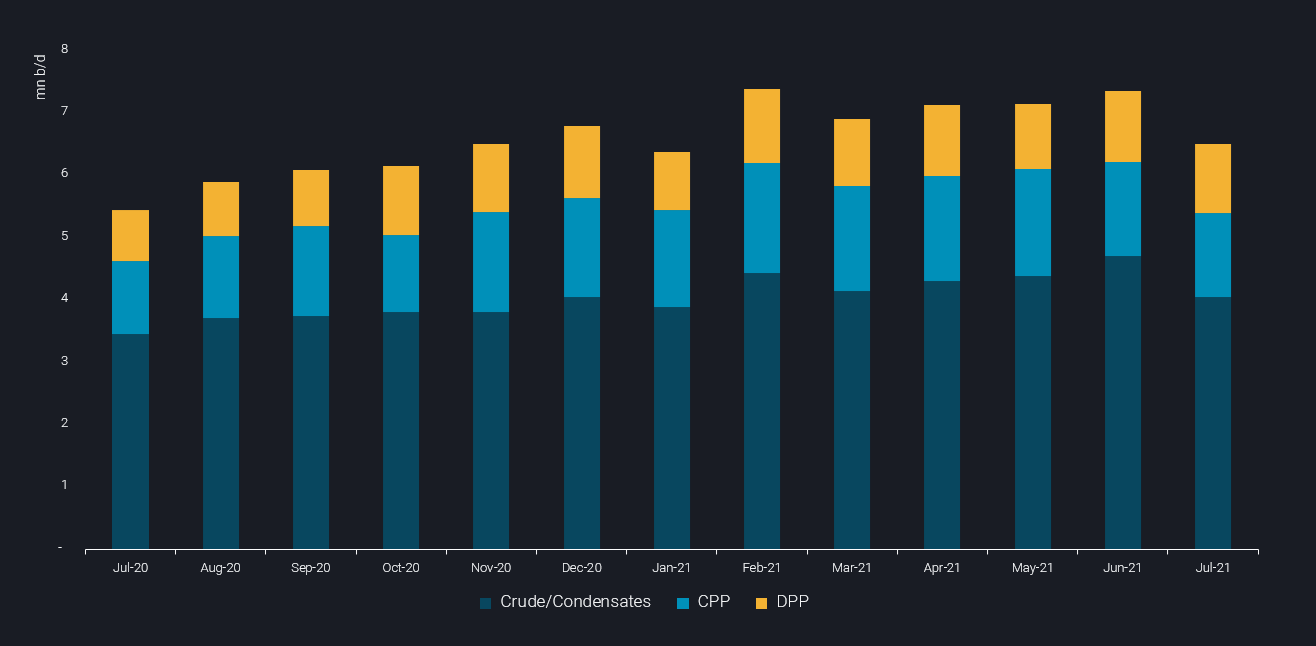 Russian seaborne oil exports (b/d)
At 4mn b/d, July's seaborne crude exports are the lowest monthly total seen since January. The month-on-month decline for clean product exports in July is more modest at around 150,000 b/d, while dirty products exports are little changed (see chart above).
Crude factors at play
A drop in Russian seaborne crude exports in July is especially intriguing as it runs counter to a broader trend of rising exports seen over the past 12 months. It also dampens the chances of an uptick in Russian exports in August on the back of the OPEC+ agreement reached in July to ease production cuts.
Part of the reason for the July decline in seaborne exports is a ramp up in flows via the Druzhba pipeline. Refinery maintenance work in Germany and Belarus was completed in June and would have supported increased pipeline flows. And rising fuel demand in Poland is also likely to have lifted pipeline flows.
Another more unusual factor at play is that more Russian crude is being diverted to the domestic refining sector. Argus Media reported in late July that Rosneft had increased domestic crude supplies via its pipeline network by nearly 6% on the month to 1.83 mn b/d. Based on Vortexa's recent clean products exports data, this diversion of crude is likely supporting domestic gasoline production.
Russia's domestic gasoline market
A drop in clean product exports when viewed alongside steady dirty product flows also suggests refinery output (especially gasoline) is being diverting away from the exports to the domestic market. This is reinforced with Vortexa showing that total Russian light distillate (gasoline/blending components and naphtha) exports fell by 18% on the month in July to around 510,000 b/d, the lowest monthly total since August 2020 (see chart below).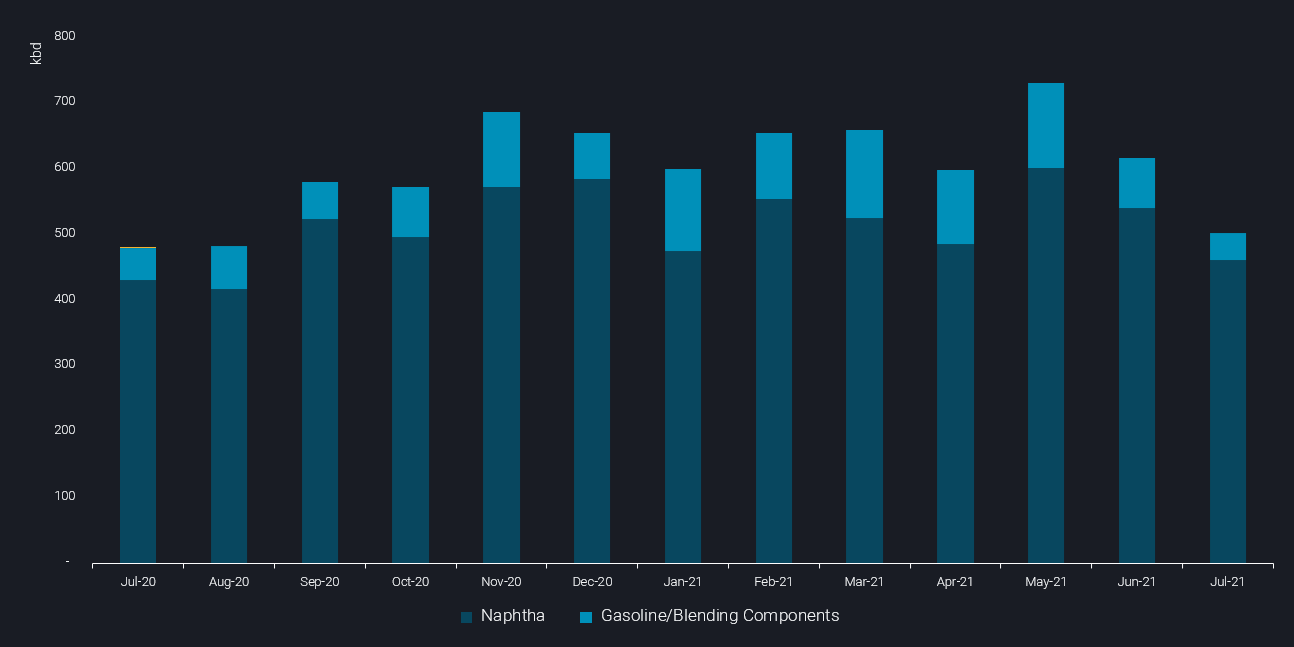 Russian naphtha and gasoline/blending component exports (b/d)
The move to retain more gasoline for the domestic market in July is motivated by Russian gasoline inventories falling below the 1.6-1.7mn mt target set by the Russian ministry, according to Argus Media. With domestic demand and prices rising, Moscow is threatening to enforce an export ban, a potential blow for refiners given that gasoline is currently the standout performer across the barrel.
It makes sense that Russian refiners will try to boost domestic gasoline supplies sooner rather than later as the impact of a potentially heavier than usual Q3 refinery maintenance schedule comes into effect.
---
More from Vortexa Analysis