Light-sweet crude prices soar amid Europe's thirst
European refiners' thirst for light-sweet crudes has propelled sweet crude premiums in recent weeks. As these premiums continue to test historical highs, it raises questions as to whether product prices are catching up fast enough to support this price momentum.
24 February, 2022
European refiners are chasing after light-sweet crudes amidst a confluence of rising regional and export oil demand, stubbornly high natural gas prices and tight crude supplies. Voracious appetite from the refiners have propelled prices of light-sweet crudes in recent weeks despite stronger exports from Libya, US and West Africa this month. As sweet crude premiums continue to test historical highs, it raises questions as to whether product prices are catching up fast enough to support this price momentum.
Light-sweet grades lead higher imports into Europe, majority headed for short-term storage
Crude arrivals into Europe saw an uptick of 700kbd in the first two weeks of February, led by higher light-sweet imports. The majority of the incremental volumes had accumulated in storage, that led to regional onshore crude inventories rising by 420kbd during the same period, with an almost equal rise in the refinery and commercial storage volumes. Given the strong crude market backwardation and upcoming refinery maintenance next quarter, refiners are likely to process these additional barrels in the near-term instead of stockpiling them.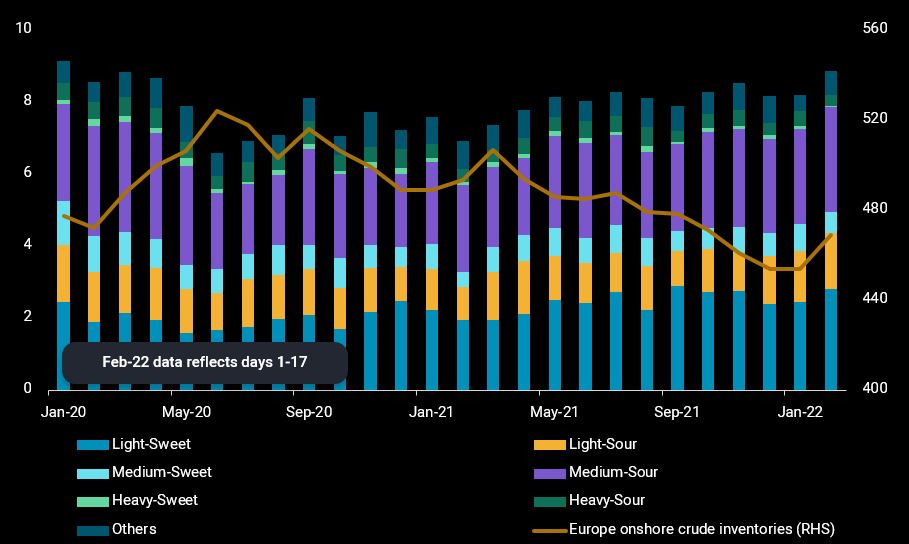 Europe crude imports (LHS, mbd) and onshore crude inventories (RHS, mb)
West African light-sweet grades fetch higher premiums than Libya's
Looking at crude loadings, the increase in light-sweet crude volumes loaded and heading to Europe this month is even stronger. Combined exports from Libya, West Africa and the US to the region are up by over 500kbd so far this month compared to January, with West African supplies recovering from its dip and accounting for nearly 50% of the growth. Outsized demand for West Africa's light crudes has pushed up their premiums against Brent, with Qua Iboe trading at $2/bl above dated Brent this week, double that in end December, according to Argus' prices. Comparatively, Libya's Es Sider which is of similar API quality and lower sulphur content, is trading near parity to Brent, similar to December.
The ramp up of US refinery maintenance this month has increased the country's light-sweet crude availabilities, with volumes to Europe projected to rise by around 120kbd month-on-month in February. Higher crude loadings have mostly benefited Atlantic Basin Suezmax employment, with upsides to Aframax utilisations capped. But falling Aframax availability for a 10-20 day fixing window, ex Houston, has supported TD25 US Gulf to Mediterranean rates in recent weeks. US crude exports to Europe are likely to remain elevated till April, when the US refiners return from maintenance.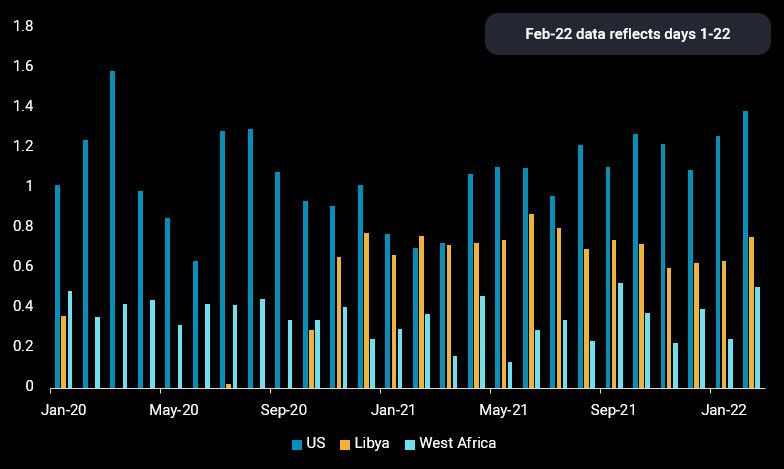 US, Libya and West Africa light-sweet crude exports to Europe (mbd)
Light-sweet price momentum hinges on Atlantic Basin demand
Atlantic Basin gasoline demand is a key ingredient behind European refiners' light-sweet crude appetite. Increased West African demand (for storage replenishment) and an anticipated rise in summer-spec gasoline demand in the months ahead is likely the driving force behind European refiners' fervent crude purchases in recent weeks. But as sweet crude premiums continue to rise, the higher costs of gasoline production will eventually be passed on to consumers through higher pump prices, posing downside risks to demand sentiments ahead.
More from Vortexa Analysis