European diesel market stuck in tightness
In this insight we analyse the main factors tightening European diesel supplies and driving backwardation to multiyear highs.
23 February, 2022
In this insight, we analyse the main factors tightening European diesel supplies amid still strong backwardation, adding our perspectives on the path forward.
Europe has long been a net-importer of diesel, typically relying on exports in varying degrees from Russia, US and East of Suez in the form of the Middle East and Asia. Among these, Russia is by far the most important source of supply, but East of Suez origin cargoes play a crucial role for the marginal barrel.
East of Suez supply drying up
The importance of Asian and Middle Eastern diesel exporters has come to the fore in recent months as the need to offset falling Chinese diesel exports has restricted flows to the west sharply.
Vortexa's latest data shows that February arrivals into Europe from Asia (largely India) and the Middle East are set to reach around 350kbd, marginally below the 10-month low seen in January. Supplies from the Middle East are constrained by seasonal refinery maintenance.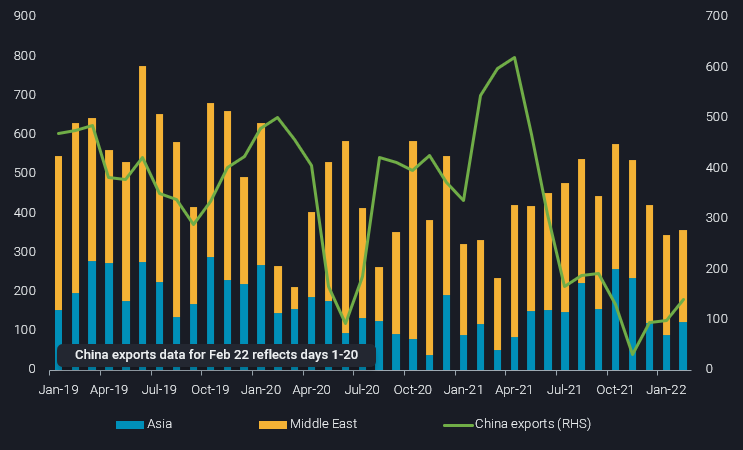 European imports by origin region (LHS, kbd) vs China diesel exports (RHS, kbd)
US cargoes tied up in regional markets
Despite the lower east-to-west flows, Europe has not seen much of a response from the US. European diesel imports from the US fell m-o-m in December 2021 and January 2022, and though that declining trend looks to have reversed in February, import levels (at less than 50kbd) are still at historically low levels.
Looking ahead, US flows to Europe may have marginal upside, based on easing peak winter requirements and hopefully lower refinery outage levels. But PADD 1 distillate inventories are still hovering near five-year lows (EIA), and import demand from Latin America has been strong through the pandemic, and may have some more upside going forwards. So rather than seeing much more diesel coming from the US, a dampening effect on European diesel cracks could come from less diesel moving from Europe and Russia towards the Americas.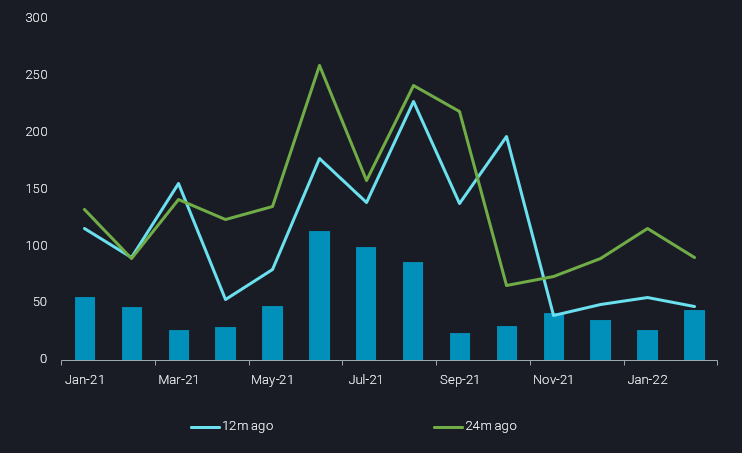 European imports of US diesel (kbd)
Spotlight on Russia
Of the four main suppliers to Europe, Russia has been the most stable source of supply so far this year. Unlike in the case of the US or East of Suez, Russian arrivals into Europe are actually higher on a year-to-date basis (up to 20 Feb), albeit very marginally.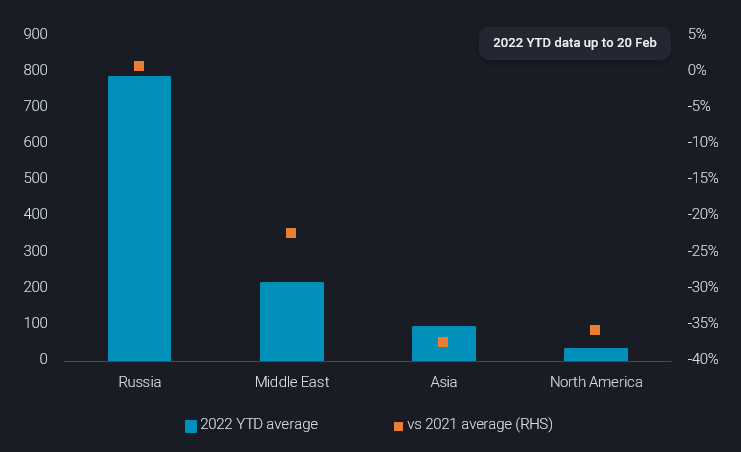 European diesel imports 2022 YTD average by origin (kbd) vs 2022 YTD change from 2021 average (%)
Given all the above, it is little surprise that ICE gasoil futures are still strongly backwardated, incentivising the market to provide as much diesel as quickly as possible. This is supported even more by the latest geopolitical developments. Evidently, given the recent escalation, the risk premium tied to Russian energy supply and trade, including diesel, is substantial.
To date, no such sanctions have been applied by European or US governments on energy flows from Russia, but if they were to materialise, European diesel would be one of the most exposed markets in the whole energy complex. As seen in the chart below, Europe's reliance upon seaborne diesel imports peaks seasonally at around February-March to around 30%. If this level of supply was disrupted, or even faced with a higher risk of disruption, prices would surely climb. In such a scenario, with little alternative sources available to Europe, higher prices – driving lower consumption – would be the strongest mechanism to balance supply with demand.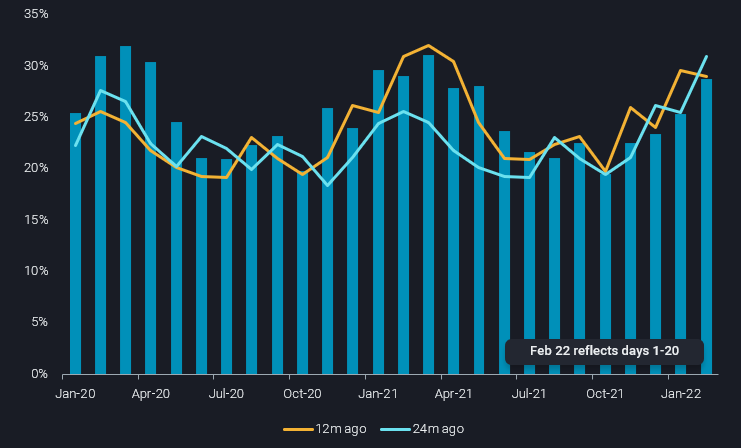 European diesel imports from Russia as a share of total seaborne imports (%)
More from Vortexa Analysis